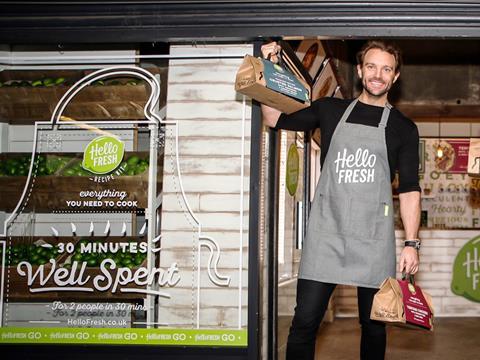 HelloFresh meal kits have disappeared from shelves in Sainsbury's as the partnership is set to be reviewed next year.

The HelloFresh kits, introduced into 35 Sainsbury's stores this spring with a view to a nationwide rollout, are no longer available online or in stores.

The meal kit company said the kits had not been permanently delisted, but were "not currently stocked in Sainsbury's due to the Christmas focus for both sides". A HelloFresh spokeswoman said the partnership would be reviewed in the new year.

HelloFresh Go launched in Sainsbury's stores across London and the south east in March at £10 for a meal for two, or £5 per portion. The price point was in the middle of its delivery options for two people, which ranged from £4.90 to £5.83 per portion, depending on the quantity ordered.

In July, the kits were made available on the Sainsbury's website for an introductory price of £8, undercutting the HelloFresh delivery service.

The range initially included five recipes - ranging from chicken jalfrezi with brown rice to a Mexican tomato jumble with spiced citrus halloumi - and the selection was designed be rotated every six weeks to "give people variation".

However, the number of HelloFresh recipe kits on the Sainsbury's site had fallen over the past few weeks.

The growth of recipe kits, which saw HelloFresh post a 96% increase in revenue in 2016, has prompted a number of supermarkets to attempt entry into the market.

Last October, Waitrose trialled in-store 'Dinner for Tonight' kits priced at between £8 and £12. But the trial was abandoned in spring as Waitrose chose to concentrate on its own recipe kit delivery service. Gousto also tested out a click & collect service in partnership with the Co-op last summer at its Brighton branches, but the initiative was pulled two months ahead of schedule to focus on home delivery.