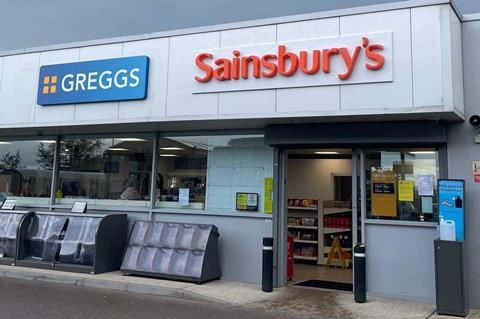 Sainsbury's and Greggs have partnered up for the first time with the opening of a new petrol station tie-up.
A new Greggs concession has opened in an existing Sainsbury's petrol station in Biggleswade, Bedfordshire. The concession, which includes a hot food counter and cold fridges, will stock items including Greggs sausage rolls, pasties and vegan alternatives, alongside options from Sainsbury's convenience range.
The pair plan to open further concessions throughout the UK later in the year.
"We've launched this new concept as part of our ongoing plan to transform our takeaway food offer with top brands – bringing even more innovative and delicious food and drink to our customers," said Rhian Bartlett, Sainsbury's food commercial director. "This is the first time we've worked with Greggs and we're delighted to be partnering with one of the UK's favourites for freshly prepared food on the go."
The new site will open between 6am and 9pm and also includes the baker's click & collect service. The opening would allow Greggs to provide for even more customers, said Greggs property director Tony Rowson.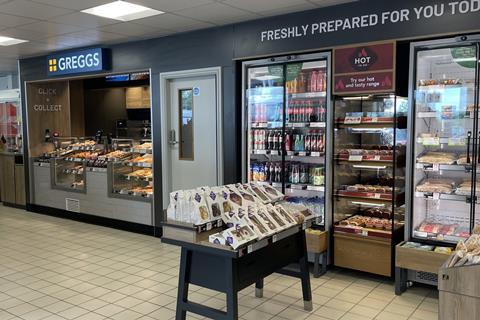 "Our opening at Biggleswade will be our first with Sainsbury's as we expand and diversify our retail estate as part of our ambitious property strategy," Rowson said.
Both businesses have expressed their intention to expand their convenience offering over the next couple of years.
During a call announcing the high street baker's first quarter results last week, Greggs CEO Roisin Currie said the chain is increasingly targeting roadside locations and travel hubs. It includes increasing the number of Greggs drive-through outlets and franchise partnerships.
"[It's about] trying to make it as convenient as possible for customers to access Greggs wherever and whenever they want to," said Currie.
In April, Sainsbury's announced plans to open 20 c-stores this year after hitting £3bn in sales for the first time across its network.
Sales across its more than 800 c-stores grew 10% during 2022, up 7% on pre-pandemic levels. Fuel sales grew 23.4% during the full year to 4 March 2023.