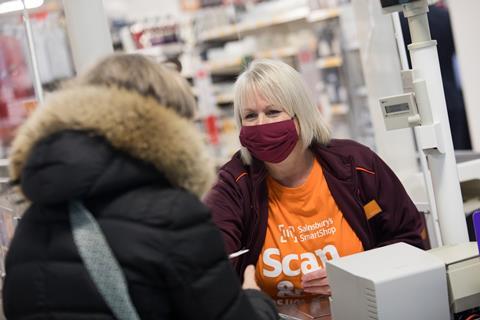 Sainsbury's has said it is committed to paying staff "as fully as possible" just days before shareholders are set to vote on a resolution that will determine whether or not it will be the first major UK supermarket to become a Living Wage employer.
Following months of calls from shareholders and activists, CEO Simon Roberts said the company was committed to "paying our colleagues the living wage and making sure we support them as much as we can".
Roberts came under fire recently for bagging a £3.8m pay and bonus package at the same time as reports emerged that retail staff were having to use food banks amid the cost of living crisis.
He told reporters on Tuesday that he was aware his job was a "privileged" one, but that he was "absolutely committed and determined to keep making sure we do the right things for our colleagues and customers".
"It's a challenging time for everybody and our colleagues working on the shop floor are doing an amazing job and I spend as much of my time as possible making sure we're doing everything we can to support them," he added.
Earlier this year, the grocer became the first listed business to be hit with a shareholder resolution – led by the activist investor coalition ShareAction – to become an accredited Living Wage employer.
Following growing pressure from investors and the public, Sainsbury's raised wages for all staff across the UK to make sure they were in line with Living Wage standards.
However, it fell short of announcing it would sign up to the foundation representing workers' rights – which often defines its Living Wage rates based on current inflation rates and other financial metrics.
Additionally, it did not extend its commitment to subcontracted staff such as cleaners and security guards. Sainsbury's spends approximately £500m a year on contracts, compared with just under £4bn spent on its own labour bill, Roberts said on Tuesday.
He added "the vast majority" of contracted colleagues were paid "at or above the living wage", and that he was continuing to work with suppliers of contracted staff "to encourage them to do that".
He reiterated that Sainsbury's was an "industry leader" when it came to colleague pay, having been the first major supermarket this year to up salaries, and that it preferred to continue making the decisions on its own "just as we have been the past five years".
The company is set to face a vote at the upcoming shareholder AGM this Thursday, 7 June. The argument for becoming Living Wage accredited recently garnered further support from the public, as over 100,000 people signed a petition to ask Sainsbury's to make the official commitment.
📣 Over 100,000 of us are backing the call for @sainsburys to become a Real Living Wage employer.

Today we are handing in our people-powered petition along with hundreds
of testimonials from Sainsbury's staff! @organisehq @38degrees @ShareAction pic.twitter.com/TbUgkY6Or6

— 38 Degrees (@38degrees) June 30, 2022
The group behind the petition also published a report detailing the challenges retail workers are facing in the current economic climate.
"Organise members who work at Sainsbury's are choosing between feeding themselves and heating their homes," said Roxana Khan-Williams, digital campaigner at Organise.
"They're using food banks despite working full time, so they're asking for a fair share of Sainsbury's profits to be returned to them in the form of a real living wage."