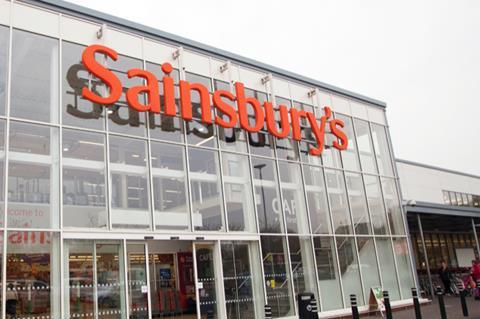 Sainsbury's has announced a raft of further price cuts on core dairy lines in response to an easing in commodity prices.
The retailer today said it would slash prices by up to 60% on more than 40 own label products, including hard and soft cheeses, yoghurts and cream.
Its own label fat-free natural yoghurt has seen its price cut by 60% from £1 to 40p, while a JS Light Soft Cheese 250g is down by 40% from £2 to £1.20.
Both JS fat-free cottage cheese natural 300g and JS double cream 300ml lines have been cut by 30% to £1.30 and £1.15 respectively, while a JS British Mild Cheddar 400g pack has seen its price cut by 8%, from £3.70 to £3.40.
Aldi also announced price cuts to its single and double cream own-label lines today. The single cream SKU (300ml) has fallen from £1.05 to 99p and the double cream line (300ml) has been reduced from £1.19 to £1.15.
Sainsbury's assured the price cuts would not change how much it paid its farmers, and stressed it would work with them to navigate cost pressures while keeping costs low for consumers.
The move follows cuts in price to its bread and butter offering in early May – something that prompted similar price drops by Tesco, Lidl and Aldi.
Record high
"With the rate of grocery inflation remaining at a record high, we want to do everything we can to help our customers manage their budgets and keep prices low on the products they buy most often," said food commercial director Rhian Bartlett.
"Whenever we are paying less for the products we buy from our suppliers, we will pass those savings on to customers," she added.
Sainsbury's said it had also doubled down on its Aldi Price Match campaign, which is focused on keeping prices low on fresh everyday products.
The retailer has added popular dairy products to its Nectar Prices campaign for the first time, including SKUs from Lurpak, Philadelphia and Cathedral City.
"We are relentlessly focused on offering our customers the best possible value so they know that they are getting a great deal on their everyday staples when shopping with us," Bartlett added.
It comes as the government has discussed introducing a voluntary cap to the price of basic food items to ease the UK's cost of living crisis, according to media reports over the weekend.
"My understanding is the government is working constructively with supermarkets as to how we address the very real concerns around food inflation and the cost of living, and doing so in a way that is also very mindful to the impact on suppliers," said health secretary Steve Barclay on the BBC's Sunday with Laura Kuenssberg programme.