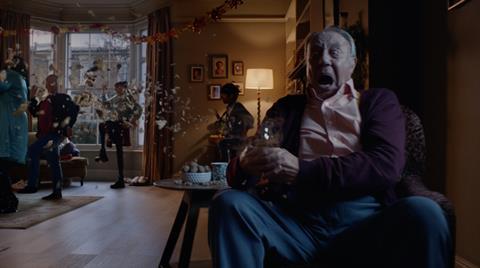 Sainsbury's has unveiled its 2021 Christmas advert, focusing on a single moment from the big day frozen in time.
The ad, created by London agency Wieden+Kennedy, is voiced by Stephen Fry in a bid to amp up the sentimental value of its tableau. The viewer moves through the scene from wide shots to minute details of a large family Christmas gathering.
"With so many of us unable to spend Christmas with our loved ones last year, we, along with the nation, are really excited to fully celebrate Christmas once more," said Radha Davies, director of brand communications and creative at Sainsbury's.
"One of the true highlights of the festive season is the much-anticipated Christmas dinner. Whilst the food is important, it's also about what that meal represents: spending quality time with loved ones, catching up, enjoying a delicious meal and above all, having fun together. That's why we decided to focus on savouring every moment with this year's ad. We really hope everyone truly gets to enjoy themselves this year and can make it one to remember."
It is set to the Etta James classic At Last, another nod to the delayed festivities of 2020.
Sainsbury's hero Christmas products are among those to get close ups in the scene, including its Taste the Difference chicken waffles, ham and gravy.