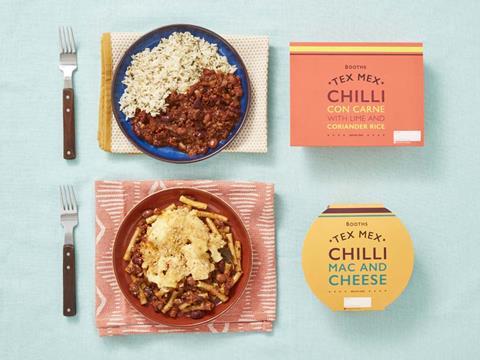 Booths products are now stocked in southern England, Northern Ireland and Scotland through a partnership with Dobbies Garden Centres.

Through the initiative, grocery items from more than 50 of Booths' most popular own label products are now available in three of Dobbies' garden centres.

Products on sale include ready meals, desserts and delicatessen items such as olives and pasta.

Although Booths delivers to 302 southern postcodes through Amazon Fresh and nationwide with Amazon Prime Now, this is only the second time its food and drink ranges have been presented in stores. Its own-label items have been sold in Fenwicks' nine branches in southern England, York and Newcastle since 2017.

The scheme, introduced on 15 November, comes as part of the upmarket grocer's strategy to cultivate new markets, and expand and develop its range.
"Booths had previously been a northern secret, but now a range of delicious products are available in three Dobbies Garden Centres, meaning we can delight even more customers with our great quality Booths food and drink," said Booths head of brand Abby Talbot. "The partnership is part of our strategy to cultivate new markets, expand and develop our Booths brand range and enable more customers to discover what makes Booths so special."

Archie Stewart, head of food at Dobbies Garden Centres, added: "Food is a key part of our offering, and is becoming more important as consumers are looking for a convenient and quality food offer. Our customers care about what they're eating, where it comes from and of course how good it is - that's why we're teaming up with food experts and are thrilled to announce this partnership with Booths."

A spokeswoman for Booths told The Grocer it had no plans to open new stores in southern England, Scotland or Northern Ireland to build on this initiative, but it was "keen to expand the brand through partnerships like this".