As post offices continue to close, more in-store concessions are opening. It's not popular with everyone, but it's the only way the network can survive. The question is, can retailers make it work and how?
Pouring rain wasn't enough to deter the protesters in York city centre last year. As passers-by scurried past, bundled up in puffa jackets and dodging dripping umbrellas, the small crowd stood firm, holding up handmade placards. They read 'Post office before profit,' and 'Protect the people's post office'.

"They want to close a post office that's been there since 1840, a purpose-built post office and put it in the back of a paper shop down the road," said Communication Workers' Union (CWU) rep Paul Clays, when asked what had left locals irate enough to brave the downpour. "It's an absolute disgrace that a public service is being attacked for the sake of profit."

'Paper shop' was a tad disingenuous. The red brick Lendal Post Office, which had indeed stood for 135 years, surviving incendiary bomb attacks during the Second World War, was actually being relocated to a large branch of WH Smith, three minutes up the road on Coney Street. It wasn't the only one, either.

The move was part of a nationwide strategy announced six years ago by Post Office Ltd. To stem losses of £40m per year, it planned to drastically reduce the size of its Crown network (large standalone branches) by moving 70 such sites into retail franchises.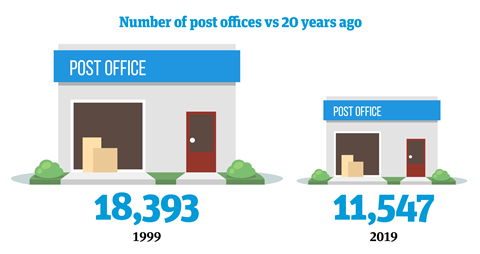 It's part of an evolution of the Post Office that spans decades. Since the 1980s thousands of directly managed sites have moved into shops, almost always as an alternative to closure.

About 80% of all post offices are now co-located in this way. That goes all the way from multi-counter concessions in urban branches of WH Smith, to tiny village stores. There are also pop-up post offices in pubs, libraries, community halls and vans.

Each time it happens again, though, it's met with the same anger that was sparked in York. There have been protests in Crawley, London, Worthing and Dartford (to name but a few) at this most recent round of relocations pushing postal services into third party retailers. MPs even expressed concern that the agreement with WH Smith put the network at unacceptable risk in the event that the chain collapses.

Speaking to the BEIS select committee in May, Andy Furey, a colleague of Clays at the CWU, didn't hold back. "Network transformation has been an unmitigated disaster, and the Post Office of today is sleepwalking into a nightmare.

"Because of network transformation, it is the most unstable and vulnerable it has ever been. Many postmasters cannot make ends meet, and they are seriously thinking about whether they are going to continue to provide that service to the public."

Is that fair? Does this shift into retail really indicate a Post Office clinging on for dear life? And, if so, what can retailers do to bring it back from the precipice?
Declining demand
There's no denying that demand for the full spectrum of the Post Office's services are not what they were. In 2000, about 28 million people per week visited a post office. Now that figures lingers at about 17 million.

About half the traffic in the 1990s was the 13 million coming to pick up benefits. Since the government adopted its digital-first strategy though, that has plummeted to a little over one million.

In fact, revenues for Post Office operators from providing these types of government services has fallen from £576m in 2005 to just £99m in 2018, according to evidence submitted to the Business, Energy and Industrial (BEIS) Strategy Select Committee this year.

Volumes of letters (unsurprisingly) continue to fall too, down 5% in 2018. And while e-commerce means we send, receive and return more parcels than ever (up 11%), the deregulation of the postal service in 2006, in which the Royal Mail lost its monopoly, means there's more competition than ever too.
"It's inevitably going to be a commercial model that's very tight. But the truth is our members report a variety of experiences"
It's tough out there. "Yes, inevitably the commercial model is very tight," says ACS chief executive James Lowman. "But the truth is our members report a variety of experiences."
For some retailers it's a welcome boost to business. McColl's, for instance, with 591 post offices in its stores, is reportedly the largest such operator. It says the service attracts more than 600,000 visits to its stores each week. As a result it added 25 new in-store counters last year, and has another 20 planned in the year to come.

The Co-op now has 237 up and running across its estate, while WH Smith continues to expand its roster.

A (controversial) new deal saw the high street retailer open a further 40 concessions in 2018, bringing the total to 208, with an extension announced in late 2018 that will see 41 more open up over the course of this year. The move "further confirms our position at the heart of the communities in which we operate" says the retailer in its annual report.

For small c-stores, cementing a position in the heart of the community is rarely an issue, of course. Making a profit is. And the installation of a post office counter can help with that too. According to Him Research & Consulting, the service can boost dwell time by 10% and nudge up average spend per trip by 3%.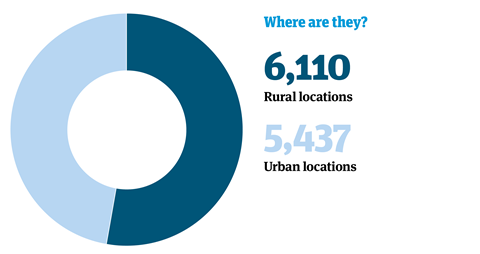 At the Spar village store in Hook Norton, Oxfordshire, "we have people queueing outside from 8am ready to use the post office," says owner Joe Williams. It began offering post office services in 2016 when the branch around the corner suddenly closed.

"We've noticed in our winter months, in the quiet spells between September and November, it's drawing the customers in, as for the post office that's the busiest time as people post Christmas cards and parcels abroad.

"While you're not making a lot of money from the post office itself it's drawing them in to spend money within the store." In fact, 90% of the time someone comes into use the post office they end up doing a bit of shopping, he estimates.

"Retailers recognise the benefits of a post office franchise as a footfall driver, giving them a point of difference over competitors," adds a Post Office spokeswoman. "So far this year we have had 500 requests from retailers asking about adding a franchise to their store."

For the public there are some major advantages of a Post Office housed in a local store too. Namely far longer opening hours than they might have expected from the standalone network, with 200,000 hours added since the 2012 Transformation Programme was launched and 4,000 now open on Sundays, says the company.

But there's no escaping the fact that this new model isn't working universally, a fact that made it back into the headlines last month when a survey from the National Federation of Sub Postmasters (NFSP) found approximately one in five operators (22%) were considering closing or downsizing over the next year.
"You have to have a certain threshold of turnover in the store to make it worthwhile. There does come a point where you question what they add to the bottom line"
NFSP CEO Calum Greenhow is quick to point out that the results were distorted somewhat in how they were reported, and that the long hours, lack of holiday and wafer-thin margins cited by those considering such a move could be as much a reflection of the challenges of general retail as running a post office.

"Seventy-six per cent believe that they're earning less than the national minimum wage, a third didn't take any time off at all, the vast majority are husband-and-wife teams and feel as if they're working longer hours, while earning less than they did before - there's a multitude of factors within that," he explains.

"The reality is that the pound is very precious to the customer, so why are they going to spend it with you rather than the competition down the road?

"It's because the service is better, the environment is better, and the products you have for sale are better. It's not a case of shoving in a post office in and everything is rosy. You've got to work at it and keep on top of it, and make sure you're doing it right."

It's by no means a panacea, adds one convenience retailer. "You have to have a certain threshold of turnover in the store to make it worthwhile. There does come a point where you have to question what they add to the bottom line."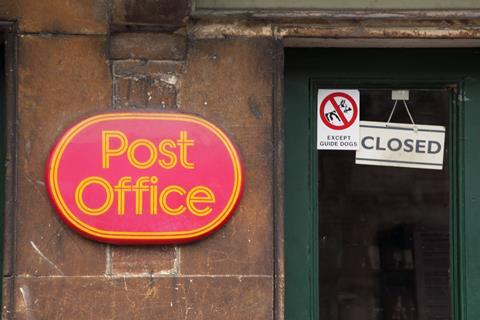 Plummeting pay
Not least as, along with falling demand, that bottom line has been further eroded by changes to the way in which many Post Office franchisees are paid. Fixed fees have now been replaced by a fully variable fee structure dependent on the type and number of transactions that go through the till.

Though the Post Office does make an exception for some 3,200 rural stores for which this system simply wouldn't be viable, paying them a direct subsidy to remain open, it's a shift that has seen overall revenues from post offices fall. One postmaster submitting evidence to BEIS in May said their income had plummeted from £35,000 to £12,000.

"In this environment you can't see the retailer as the pressure valve," says Lowman. "The idea that retailers can cope with less money means that retailers will make real-time decisions about what services they offer in store, including post offices. That's the very fine equation that the Post Office, and by extension the government, are always having to deal with. More integration into retail businesses doesn't mean those retailers have unlimited ability to cope with cuts in revenue and increased costs and requirements on them."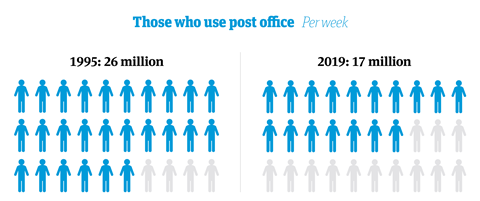 Modernisation
So what's the solution for those struggling to make a post office work? Well, the Post Office insists it is doing its bit.

Alongside modernising nearly 8,000 branches since 2012, a spokeswoman says, "we're opening more franchises in carefully chosen new locations, to beat the competition and to meet untapped customer demand.

"We're trialling simpler formats, including small footprint, self-service options, and live testing of EPoS integration, which will bring our most popular products and services onto our partners' EPoS systems."

The experts The Grocer speaks to say future-proofing post offices within stores will also rely on better leveraging the two services in growth - parcels and banking.

We sent 11% more parcels in 2017/18 compared with the year before, says Ofcom, with 2.4 billion packages bringing in revenues of £9.4bn. The Post Office already has a sizeable chunk of that, not least thanks to a 20% volume growth in returns. It's also the largest click & collect network in the UK. But it faces stiff competition.

Since 2006, the Royal Mail has lost its postal monopoly, opening up the market to the likes of DPD, Hermes and DHL, which continually look to rival Royal Mail on price, speed and innovation.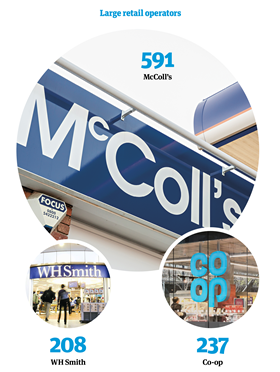 Only in February, Hermes announced it would experiment with in-store lockers, and head of innovation Richard Blown says the viability of car boot delivery - couriers picking up a parcel from a car parked at a station or office - is being looked at too. On the one hand, franchisees should push the central Post Office to look at equally innovative tools. On the other is the question of whether the Post Office should ditch its exclusivity agreement with the Royal Mail and open up its outlets to the likes of Hermes too, thereby opening itself up to the possibility of millions more parcels and associated revenues.

It's something Citizens Advice has looked at in its research on the network. "In theory, parcels could provide much more business to post offices than they currently do, if that exclusivity arrangement was opened up," says senior policy researcher Tim Harrison. "And consumers would be able to access a far wider range of services for sending parcels in their community if other carriers could go via a post office.

"There are potential impacts on both businesses that we don't have visibility on, but we'd like to see an open discussion because there is potential for people in rural areas to access more parcel services, and for post office operators that might be struggling to access new revenue streams through parcels if the exclusivity agreement was opened up."

Banking is the other area of growth. Thirteen thousand bank branches have closed in the past three decades, leaving one fifth of the population more than two miles from their nearest branch, found Which? in 2018. It's a loss in high street services that led to the Banking Framework Agreement in 2017.

That framework means that the majority of people can now carry out high street banking transactions, such as withdrawals, deposits and balance queries, at their local post office. Last year, it saw 127 million transactions take place in branches.

The new source of revenue is already helping retailers like Williams. "We've had three of the local banks in the next town close so we're finding we're getting a big increase in banking transactions, both withdrawals and cash deposits, which counteracts those services where there's a decline."

But it could go further, suggests Harrison. "While most consumers can do their day-to-day banking at post offices, these services are limited. Our research also shows low awareness and use of, and concerns about the reliability of the service provided by the Post Office. If post offices can provide reliable access to a wider range of banking services that's potentially a way to expand the banking services and increase footfall."

More generally, he adds, "we're keen to see the government and Post Office Ltd increase the range of face-to-face services that people can access. That's clearly good for consumers, particularly vulnerable ones that might not have digital literacy or access to the internet, but it also provides extra income streams for operators to make business models more sustainable."

In the longer term, there is also scope to think again about the types of retail outlets best placed to run a post office and provide these sorts of services, suggests Linda Ralph, VP of international business development at Mood Media.

"While the local newsagent collaborations put post offices in the heart of residential areas, which is valuable, the areas where the largest community footfall is happening is in the grocery and food sector," she says. "Already in some of the larger supermarkets they're introducing 'shops within shops' whether that's phone stores, cafés or banking, so a post office facility would work.

"By aligning themselves with a more modern business, such as a grocer or even a department store, they could also integrate more digital tools so people can get the immediacy and functionality of web browsing and web buying, but also that personal touch for some of the more difficult processes, like filling out legal forms."
Sentimentality
Any retail setting will need to make a 350-year business work for the 21st century though, says Greenhow. That means considering "how can we start the journey online and finish it in branch? How can we be more attractive to Generation Y and Z?".

"How can we make things quicker, simpler and easier? How can we make sure opening hours are convenient to the customer without it getting to the point that the cost of convenience is no longer viable?"

It's challenging. In a market in which the basics of retail are already challenging enough. Setting aside sentimentality for an historic British institution then why should we make this work? Why should we - and retailers - look to preserve struggling post offices?

"That's a very good question," says Greenhow. "That point about sentimentality is a fair challenge. But as well as providing services of general economic interest, post offices have a social purpose and do so much more beyond profit and beyond income. The financial and social inclusion we provide as well, access to government services… The list goes on and on and on."
"As well as providing services, post offices have a social purpose and do so much more beyond profit and beyond income"
Even more than that "the vast majority of post offices are owned by small independent business people that employ local people. We employ well over 20,000 people. We put so much back financially into the local economy in a way that a large commercial plc just doesn't. Within thousands of communities around the UK we are the only shop, and without us these communities would have nothing and no access to a whole range of vital services."

It's an argument passionate enough to bring anyone out, armed with a placard, into the pouring rain.
What is the 'Transformation Programme' and what did it achieve?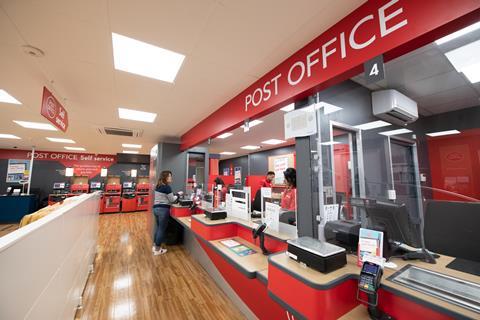 Fresh off the back of two waves of closures, in which 5,000 post offices shut down, the government launched its plan for future-proofing the network in 2010.
The report from BEIS, 'Securing the Post Office network in the Digital Age,' included commitments for £1.34bn in funding over four years to modernise the network. Proposals included longer opening hours, better digital tools, more convenient locations and the rollout of the Post Office Local model. Five years on, whether or not this plan was a success depends on who you listen to.
The Post Office says, "since 2012 nearly 8,000 of our branches have been modernised. Modernising the Post Office model and the way of working has enabled us to increase opening hours by more than 200,000 a week across the network, meaning that our services are available earlier in the morning and later at night and more conveniently accessible for customers. We also have more than 4,000 Post Offices now open on Sundays."
On top of that they say 98.7% of people now live within three miles of a branch (95% was the target), new banking services are in growth and the recent acquisition of PayZone "has created a combined 25,000 strong network where customers can pay their bills".
The CWU's Andy Furey, speaking at the BEIS Select Committee inquiry in May, couldn't have a more different take. "I am very worried about the network," he told MPs. "I would describe what is happening as smoke and mirrors."
For instance "the Post Office says there is a stable 11,500 post offices, but at any given time up to 1,000 are actually closed."
Pressures on wages mean additional hours are a "bit like the emperor's clothing," he added, while a lack of trained staff meant people being turned away.
Moreover "many postmasters cannot make ends meet, and are seriously thinking about whether they are going to continue to provide that service to the public… If they cannot make a decent living that service is going to be completely and utterly vulnerable."

Want to run a Post Office in your store?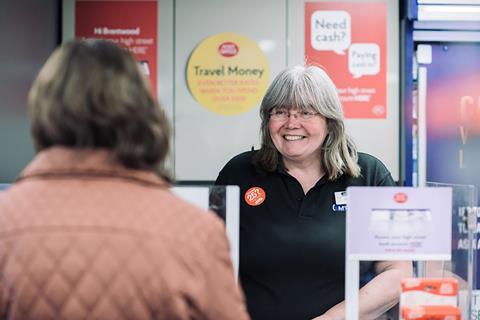 You're in luck. The Post Office says it is continuing to recruit retail partners.
It is looking for retailers that are "self-motivated, sales-focused and innovative, with a strong business plan."
There are two types of Post Office you can apply to open. The first is a Main branch, which requires a dedicated area for the post office, as well as a service point on the retail counter.
Alternatively, a Local branch only requires that Post Office services are integrated into the existing retail business.
The Post Office will invest up to £45,000 to get set up (on a match-funding basis) or up to £10,000 to install a Local counter.
A variable fee structure means you earn depending on the number of transactions that go through the till, unless you qualify for one of the Post Office's direct subsidies.
The process can take from seven months to a year to complete.