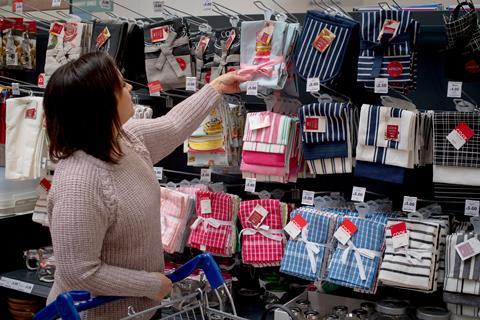 Retailers have called on the Welsh government to compromise over its ban on the sale of non-essential items, as talks continued today following a huge public backlash over the clampdown.
This morning the Welsh Retail Consortium, the CBI and ACS joined forces to call for a rethink, which would allow customers to use their discretion over which items are classed as non-essential.
Although the Welsh government has indicated it will not fully reverse the ban, ministers have said they will review which items are included, amid concern that shoppers are being banned from buying items including clothes, books and a raft of homeware items.
Business leaders have expressed anger that staff have been forced to police the new rules, due to last for 17 days, even though they have been described as unenforceable by police chiefs in the country.
More than 60,000 people in Wales have signed a petition against the ban, whcih is intended to reduce the spread of Covid-19, though ministers have also admitted it is an economic policy to tackle unfairness at supermarkets being able to sell products banned elsewhere.
The group's compromise proposals say that retailers would pledge to "prominently display" Welsh government-approved signage in front of known non-essential items and in communal areas."The signage will make clear the government's regulation and the need to abide by it," it said.
"This message will be reinforced through in-store announcements and social media messaging. Advising customers to put off non-essential purchases."
The compromise proposals added: "We recommend the individual customer is trusted to make their own decision as to whether a product is non-essential or not, taking into account the notices displayed throughout the store and their immediate needs.
"If the customer goes ahead with the purchase of the item the final liability ought to rest with the customer."
The trade bodies also vowed that if the government accepted the plans they would remove in-store promotional displays of non-essential items in order to minimise browsing and avoid triggering non-essential purchases.
"These recommendations would mean non-essential items are not removed from shelves – or cordoned off in stores - but large notices are placed in front of the products and in communal spaces informing customers of the Welsh government's regulations and the Welsh public are trusted to make the right decision," said the proposal.
Further talks were being held between the Welsh government and the groups this morning.