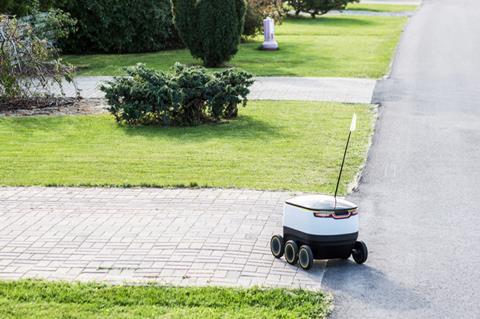 Robot courier startup Starship Technologies has added takeaway food to its Co-op and Tesco grocery delivery service in Milton Keynes.

Starship's 4mph autonomous robots now serve hot meals from Moores Fish & Chips in Monkston Park on the same terms as the groceries, in under an hour with a flat £1 delivery charge.

The robots also began serving 2,000 new homes with the addition of the district of Tattenhoe on Saturday (18 May). A further 2,000 in Shenley Brook End are to be added this weekend, bringing the total served to around 20,000.

Starship has been delivering for the Co-op in Monkston since April last year. In January this year a Tesco Extra in Milton Keynes' Kingston Centre was added, followed by a second Co-op branch in Emerson Valley last month. Food goes in a secure compartment which customers can unlock using Starship's app when the robots arrive at their home.
The US startup's robots also deliver in university campuses and a business park in the US, and to residents of Tallinn's Mustamäe borough in Estonia.

In the UK, the business is in talks with a number of local authorities over by-law changes needed to roll out the service. "We're always interested in talking to local authorities," said a spokesman.

He said "thousands of orders a week" were being placed in Milton Keynes and university campuses were the likely next destination for the UK rollout.

"People are using us on a day-to-day basis. University campuses are an area of expansion for us at the moment, where students and staff can get their meals delivered to them. There's been huge demand for this in the US and we're looking to do the same in the UK."