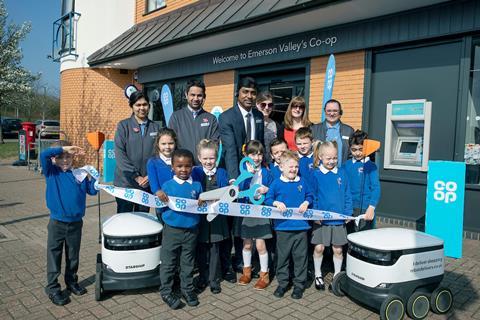 The Co-op has begun delivering by robot from a second store.

The convenience retailer has been using autonomous robots to make deliveries in under an hour from a store in Monkston, Milton Keynes, for a year, and has now added the town's Emerson Valley branch.

It is the Co-op's second rapid delivery rollout inside two weeks, after launching a two-hour service by electric cargo bike from a store on London's King's Road in Chelsea.

The robots are from tech startup Starship Technologies, and also deliver from a Tesco Extra in Milton Keynes. Starship provides the app on which orders are placed.

Delivery costs just £1, with no minimum basket value. The groceries are now picked in-store by Co-op staff, where they were previously picked by Starship. They are then put in a locked compartment which can only be opened by the customer using the app at the other end of the robot's unaccompanied journey.

The robots travel up to two miles from the store at up to 4mph and have fulfilled orders in as little as 15 minutes.
The addition of the Emerson Valley store brings the number of households that can get their Co-op shopping by robot to 11,000. The move conincided with the reopening of the branch on Thursday last week following a £520,000 refurbishment.
Pupils from nearby Howe Park School were invited to cut the ribbon at the opening, with robots also in attendance.
The revamped branch offers an increased range.
Announcing the news on LinkedIn today, Jason Perry, the Co-op's senior strategy manager, food digital, wrote: 'Last week we expanded our partnership with Starship Technologies to offer [the service to] people within the Emerson Valley area of Milton Keynes.

'If you're in this area you can now get Co-op groceries delivered in under an hour. The store reopened after a refit on Thursday and we were delighted to have some local school children open the store and robot delivery service.

'It's great to improve our offer in the local community and give our customers and members more ways to shop with us. To use the service download the Starship app from your app store, place your order and let the robots do the rest.'

The Co-op's new e-cargo bike delivery service in London uses a new website from the supermarket itself. At its launch on 22 March, a spokesman said: "Ultimately there are plans to make online shopping available in a significant number of UK towns and cities."

The retailer also offers delivery in partnership with Deliveroo from 11 London stores and five in Manchester.