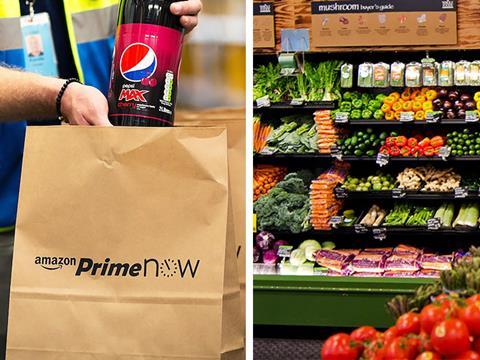 More than $11bn (£8.6bn) has been wiped off the value of the world's largest supermarkets and food and drink manufacturers as Amazon sent further shockwaves through the industry with its plans to lower prices in Whole Foods stores on Monday when its $13.7bn (£10.7bn) takeover completes.
Fears over another brutal price war sent investors running from industry stocks last night, when the news was announced in the US, and this morning as already slender margins look set to come under more pressure.
Whole Foods has struggled with declining sales for some time as it was hindered by its reputation for high prices, gaining the nickname in the US of 'Whole Pay Check'.
Amazon said it would lower prices on a selection of best-selling grocery staples across Whole Foods stores, including bananas, avocados, eggs, salmon and chicken, as part of the first raft of moves to make the organic grocer more competitive.
The news hit industry shares across the world.
After a week or strong gains, Tesco (TSCO) fell back 1.7% to 185.6p as investors in the UK digested what the Amazon price war would mean to the fragile recovery in the industry. Sainsbury's (SBRY) fell 1.3% to 234.1p in early trading and Morrisons (MRW), which has a supply arrangement with Amazon, also slipped 1.3% to 249p. After opening up 0.1%, Ocado (OCDO) fell 0.1% to 285.6p. The City has previously anticipated the online grocer could be one of the winners from the Amazon merger with Whole Foods and spooked retailers turned to it for digital support.
Other UK shares hit by the aggressive move include Booker (BOK), down 0.9% to 201.3p, Marks & Spencer (MKS), down 1% to 313.2p, and Unilever (ULVR), down 0.5% to 4,498.5p.
In the US, Asda-owner Walmart fell back more than 2% to $78.34, Costco slumped more than 5%, Kroger dipped 8.8% to $21.10 and Target declined by 4% to $54.21.
Food stocks in the US also took a pasting, with Tyrrells owner Amplify down more than 8%, McCormick by 2.4%, Campbell Soup by 3.3%, Spam owner Hormel by 6%, Kellogg by 3% and J.M. Smucker Company plunged 11%.
On the NASDAQ, Kraft Heinz was down 2.4%, Mondelez fell 2.9% and HAIN Celestial was down 5.7%.
Amazon itself fell 0.6% to $952.45 and Whole Foods rose 0.7% to $41.98.