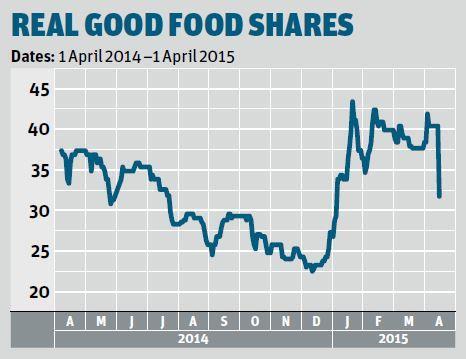 News that Whitworths owner Real Good Food is exploring a sale of its troubled sugar business left investors with a decidedly sour taste on Wednesday.

By lunchtime, Real Good Food shares had collapsed 20.6% since the market opened to 33.3p, after the firm warned low EU sugar prices were continuing to make trading difficult for its Napier Brown and Garrett Ingredients subsidiaries.

It added Napier Brown had returned to profit following a "very poor first half" but remained behind expectations for the year, which would result in earnings falling "significantly" behind current market expectations for the year ending 31 March 2015. Real Good Food said it had begun discussions with several parties in relation to a potential transaction involving Napier Brown.

The group insisted the rest of its business was performing well, but the stock plunged to its lowest point in 2015. It had previously recovered by about 75% since hitting 23p in November.

Also on Wednesday, news emerged that consumer products firm PZ Cussons has bought out Glanbia's 50% stake in Nutricima, the Nigerian milk powder joint venture. The deal is worth £21m in cash, and PZ Cussons has also entered into a new long-term agreement with Glanbia for the supply of milk-based products to Nutricima.

"This business has seen some volatility in past profits (driven mostly by raw material spikes), but is now on an improving trend," Investec analysts said. Jefferies backed the deal, writing: "Glanbia can make better use of the cash in faster-growth, more profitable businesses in ingredients or sports nutrition." Glanbia shares edged up 0.1% to €17.30 (£12.58) on Wednesday morning, while PZ Cussons eased 0.2% out to 342p.

Elsewhere, Dutch bottling firm Refresco Gerber had a slightly downbeat entrance to the Amsterdam Euronext stock exchange. Its IPO was priced last Friday at €14.50, the mid-range of guidance, valuing the firm at €1.2bn. The shares quickly slipped back soon after its launch to €14.06 before stabilising on Wednesday to €14.39.