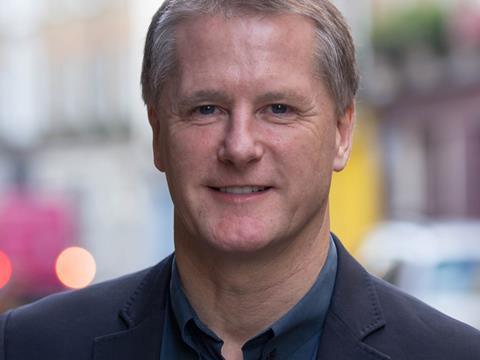 This evening Morrisons will find out whether it has lost its place in the blue-chip FTSE 100 after hanging on by its finger nails twice already this year.
Not long ago it would have been unthinkable for one of the listed big four to not be considered one of Britain's most important 100 public companies. But this is now a new, tougher, era for Britain's grocers.
If, as expected, Morrisons does drop into the FTSE 250 it will be more than a symbolic blow. Having said that, the ejection will tell us more about the state of the UK grocery market than it does about Morrisons' own recovery prospects.
A look at the graph (below) shows the FTSE ejection isn't just a Morrisons problem.
Since Morrisons closed at an annual share price high of 207.6p in early March, the share price path of Morrisons and Tesco match each other almost exactly (though Sainsbury's has avoided the worst of the industry fallout). Tesco shares have even dropped further than Morrisons since that date, but as Morrisons is the smaller company it is the Bradford-based grocer getting the FTSE 100 boot.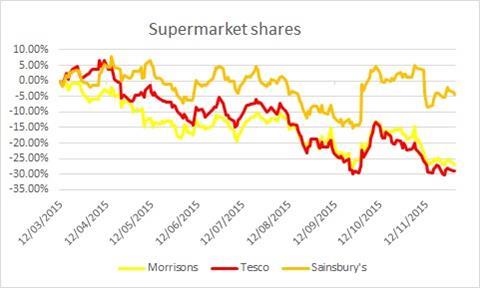 The woes of the big four are well rehearsed – march of the discounters, excess space, death of the weekly shop, breakdown of customer loyalty. Morrisons' FTSE 100 ejection would be the culmination of these pressures rather than reflect any doubts about David Potts' recovery plan.
Losing its FTSE 100 position will have a nasty short-term effect as funds that track the FTSE 100 would be forced to dump Morrisons stock – estimated by Cantor Fitzgerald to total 47.6 million shares, or 2% of its total issued share capital.
So in the short term Morrisons' share price looks like it could continue heading south, particularly as it remains one of the most shorted stocks on the entire London Stock Exchange.
Potts has always been clear that turning around the Morrisons oil tanker – which had been heading in the wrong direction long before its March 2014 share price plunge – is a long-term project.
As Shore Capital's Clive Black wrote after a recent investor meeting: "Management did not hide away from the fact that the business is on a 'long journey', so there are no quick fixes to the top-line pressures, with much yet to be done.
"Necessary change is being implemented from the top – a total reshaping of the group and executive board – week in, week out, reflecting the outcome of extensive listening to customers and change management seen as necessary."
The supermarket still has a long way to go before it can confidently be said it has hit the bottom, and investors need to see evidence of sales growth given the hugely weak year-on-year comparisons now coming through.
But there is nothing yet to suggest Potts and his new board have made any notable strategic missteps, and ejection from the FTSE 100 shouldn't be seen as evidence to the contrary.
In fact, the changes that have already happened this year suggest Potts has plenty of reasons to hope Morrisons is saying au revoir to the UK's index of blue-chip companies rather than goodbye.