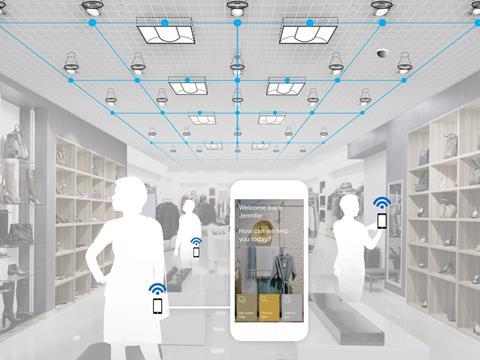 The US may be behind us in grocery in many ways - online still has just 2% share - but it certainly has plenty of vision for the future. And where the US goes, the UK typically follows. So it was interesting to see, at the Shoptalk US conference in Las Vegas, startups showcasing the latest concepts: everything from virtual reality to checkout-eliminating technology a la Amazon Go were explored and showcased. Here are the most significant trends that could soon be making their way to this side of the Atlantic.

Removing checkouts

Amazon Go captured the public imagination back in December with its checkout-free store proposition. But at the time, experts believed the concept was just too expensive to go mainstream. US startup QueueHop is hoping to remove this cost barrier. Having originally developed a mobile checkout solution for high-ticket items such as clothing, the company is now setting its sights on grocery.

Ahmed Beshry, chief product officer at QueueHop, reveals it is currently testing a system that automatically charges customers for grocery items they put in their basket. The system uses a basket with a sensor device, which costs around $250, to calculate the cost of the shop. Customers can only exit once they have paid the amount using a card, which they swipe using the device.

Beshry is already receiving interest from Malaysian retailers and believes this technology could hit other developed markets such as the UK. "This is the way things are going. People are going to push for things to be easier and easier," he argues.

Mapping the in-store experience

The Shoptalk US conference was awash with technology that helped customers navigate through stores - and many of these companies claimed to be in talks with UK retailers. Point Inside, for example, says its mobile app not only directs customers to their favourites and sends personalised offers, but can also provide retailers with valuable insights into how their customers move around in store. The concept may sound similar to the UK in-store shopping app Ubamarket, currently being trialled in Warner's Budgens, but its US counterparts appear to have gone one step further. The app by shopper platform Xenio Systems, for example, can use online shopper habits to inform in-store preferences and also has a 'call a sales assistant' button for when you need a bit of human interaction.

Showcasing via virtual reality

Online grocery shoppers tend to shun innovations in favour of their tried-and tested favourites. It is perhaps little wonder when products are displayed uniformly online, with little visual stimulation (and no opportunity to offer samples). Neha Singh, CEO of virtual reality business Obsess, is aiming to inject a little excitement into the online shopping experience. She believes a virtual reality presence will soon become "as important to retailers as online presence" as headsets are rapidly becoming more sophisticated.

As former head of Vogue digital product, Singh is primarily targeting fashion retailers that want to show their products in 3D - and in a more exciting setting than a white backdrop. But it is easy to see how grocers could use the same principle to bring product innovations and seasonal collections to life.

Ru Barksfield, CEO of digital marketing agency Fat Unicorn, can see a clear opportunity for grocers . "At the moment how do you choose between own brand or premium brand? You probably do it by habit, but if you can see it in virtual reality, you will have this tactile feedback with a whole new perspective," he argues. "Manufacturers will be vying for the virtual aisle space as much as the real ones currently."

Outsourcing click & collect

Click & collect is now a staple of any large grocer's offering. And the market is set to grow significantly over the next few years, with analyst Bernstein hailing it as a potential way to make online as profitable as in-store. Yet it will only make money if carried out efficiently. This is why Georgia-based startup Shopper Kit is offering grocers the opportunity to outsource their click & collect for a fee of $5,000 per store. The company uses in-store mapping technology to devise the most efficient picking route and will help stores carry out the entire process from order to bagging. Experts clearly see a potential for the idea - Shopper Kit is already working with IT giant IBM and has three major US grocery clients. Bernstein analyst Bruno Monteyne believes the concept could work for UK grocers looking to test out the click & collect market. "It is a nice low-risk way of trialling new ideas," he says. "In the long term, it doesn't make economic sense, but in the short term it's just a matter of limiting financial risk while maximising speed to market."

David Jinks, logistics expert at Parcel Hero, believes this option could be particularly attractive to small retailers such as those operating under Spar and Budgen's fascias.

It may be a while before companies such as Shopper Kit come to the UK, but their ideas will certainly cross the Atlantic.