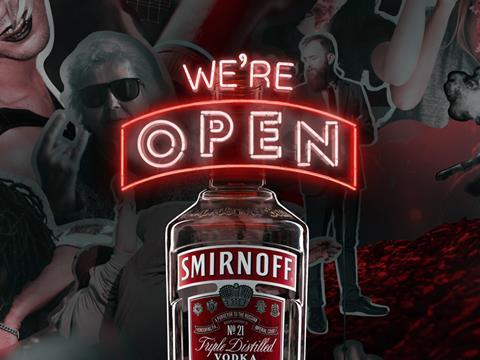 Smirnoff vodka is Britain's fastest growing booze brand.

With a complete rebranding, a bold new marketing campaign, and the launch of a sorbet brand extension, Smirnoff sales surged by 9.1%, or £39.5m, on volumes up 7.3%, according to The Grocer's 2015 survey of Britain's Biggest Alcohol Brands.

The growth propelled Smirnoff into second place in the ranking, produced in association with Nielsen, overtaking Foster's.

"Premium spirits are seeing double-digit growth. But Smirnoff's growth demonstrates there is room for mid-tier brands still to grow, and often off very large bases," said Guy Dodwell, off-trade sales director at Smirnoff brand owner Diageo.

Most of Smirnoff's growth has come from the core vodka, renamed No 21 in the packaging overhaul earlier this year.

No 21 grew 10.9% and is now worth £415.5m, or 87.8% of the total portfolio's sales.

The 2014 launch of Smirnoff Sorbet added a further £6.5m to the brand's sales. However, Smirnoff didn't have it all its own way: its range of flavoured vodkas lost 16.1% of their value, with the cinnamon Gold variant - launched in 2013 - crashing 11%.

Of the top 100 brands, spirits were the fastest-growing sector, with sales up 6.2% or £154m. Within spirits, vodka is the fastest grower, with sales up 8.7% or £69.9m. Value brands such as Russian Standard and Landmark's Prince Consort vodka are driving much of this, up £18.9m and £8.1m respectively.

But more premium brands are the key engine of growth, says Chris Ellis, commercial director at Pernod Ricard, whose Absolut brand has grown by 14% in the past year.

"It is quality, branded offerings that are seeing the greatest growth," he said. "Average price paid per 70cl bottle of spirits is also rising, up by 8p to £13.84, and Pernod Ricard is driving this."

Meanwhile, the price of Britain's biggest lager brands dipped 1.5% as deals on multipacks escalated. Sales of Stella Artois, the No1 brand in the ranking, fell by 1.3%, as a result of Stella 4 and Stella Cidre's losses (though its core premium-strength lager added £6m in extra sales). Foster's fell 2.9%; and fifth-place Carling suffered the greatest loss of the year, of £23.3m.