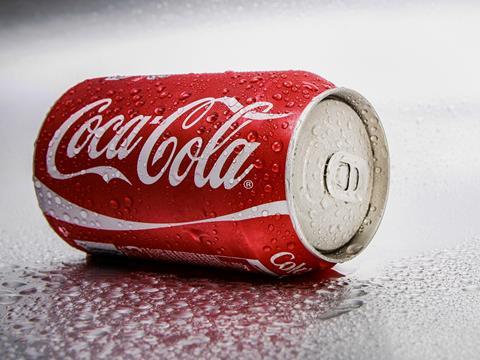 Full-sugar Coke is facing a tax bill of more than £200m, equal to almost a fifth of its UK grocery retail sales, if it doesn't step up efforts to wean consumers off sugar, The Grocer can reveal.

Under next April's soft drinks sugar tax, Coke Classic will be subject to a levy of 24p a litre.

More than half a billion litres have been sold in grocery and impulse in the past year [Nielsen 52 w/e 18 March 2017] and a further 320 million through pubs and restaurants [CGA 52 w/e 31 December 2016].

That means if red Coke's sales or sugar content (10.6g/100ml) do not fall, the brand will owe the taxman at least £200m a year from its sales through grocery, foodservice and licensed outlets alone. That's more than three times the potential tax bill of Pepsi Cola, Britain's second bestselling sugary pop.

Despite this, Coke's UK bottler & distributor Coca-Cola European Partners (CCEP) says support will remain for its flagship brand. It has ruled out any recipe change for Classic Coke and says it will pass on the levy to retailers, with the expectation they would raise retail prices. "We are all about offering choice," said CCEP marketing director Simon Harrison. "For those who like the taste of Coke but want zero sugar we have Coke Zero Sugar, which is now the fastest growing cola in Britain. We're already seeing a shift in mix."

CCEP had invested over £30m on low and no-sugar product development and reformulation since 2012, claimed Harrison, and 43% of Coke's total UK sales were from Diet Coke, Coke Zero and the now axed 'mid-calorie' Coke Life. This would rise to 50% by 2020, he added.

Some say the looming tax bill has served as a catalyst for this process. "For us it helped us continue what we were doing," said Nigel Paine, commercial operating director at Pepsi bottler & distributor Britvic. "For others, it's accelerated the shift to low sugar through reformulation."

Seventy two per cent of the Pepsi sold in Britain is no-sugar, with zero-calorie variant Pepsi Max accounting for the lion's share of the brand's sales. Nevertheless, full-sugar Pepsi sales have risen slightly in the past year, partly thanks to the fact it sells for an average of 33p a litre less than Coke.

Cola sales are falling in Britain, as drinkers switch to products perceived to be healthier. Bottled water is now bought by seven in 10 UK households, overtaking cola according to Kantar.