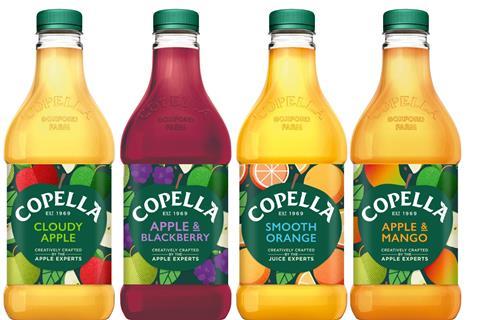 Copella has revamped its packaging in a bid to appeal to a younger audience.
The new-look bottles, which feature a "refreshed" logo and apple icon, aim to reinforce the brand's "taste and quality credentials alongside its apple expert status".
Each SKU features individualised artwork, depicting the fruits it comprises.
The redesign forms part of a wider repositioning strategy to "maintain Copella's share of growth by getting more and more people to love the brand".
Speaking to The Grocer last year, Tropicana Brands Group head of marketing Caroline Wilding said Copella had historically over-indexed with "older consumers", including "empty nesters and retirees".
"Our job to do on Copella is to find ways to keep appealing to that Copella audience, making sure we stay really relevant in terms of our flavour innovation and our packaging innovation," Wilding said.
According to Tropicana Brands Group senior brand manager Jessica Perry, Copella was "the number one apple juice brand in the category with the highest shopper loyalty" in 2022 [Kantar 52 w/e 7 August 2022].
"Our redesign and supporting marketing campaign will strengthen our position and ensure we are delivering for retailers and consumers alike with the full flavour range," Perry added.
Copella, which is currently the number 10 juice drinks brand in the UK, saw its value grow by 2.4% last year [NIQ 52 w/e 10 September 2022].