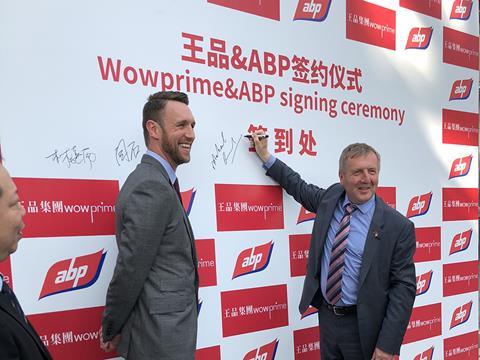 ABP Food Group has struck a €50m (£43.7m) deal to supply beef to restaurants in China owned by Asian foodservice giant Wowprime Corporation.
Wowprime owns 151 restaurants in China, offering traditional Asian and western cuisine across 18 restaurant brands. The exclusive three-year agreement, announced yesterday, will see ABP supply beef to two of Wowprime's premium restaurant brands: Wang Steak and Tasty.
The Irish processor is the first to secure a supply contract in China, which approved several beef plants for export in April, three years after lifting a ban on Irish exports imposed in the wake of the BSE crisis.
"I am genuinely delighted to be present today to mark the announcement of this ground-breaking deal between ABP Food Group and Wowprime," said Michael Creed, Ireland's minister for Agriculture, Food and the Marine, as the announcement was made at an event hosted by the company in Shanghai. "I hope it will be the first of many such transactions for Irish companies."
Stanley Lin, MD of Wowprime China, said ABP had made the "strongest case" for the merits of Irish beef, which was sustainable, fully traceable and hormone-free.
"Combined with its high quality and great taste, we have no doubt these qualities will be a winner with our customers throughout China. We look forward to building our relationship with ABP Food Group in the years ahead," he added.
The Wowprime deal comes after ABP extended its range of premium 'Irish Nature Organic' striploin, ribeye and T-bone steaks with Yata, a Hong Kong-based supermarket chain, earlier this year.
"ABP Food Group is delighted to sign this initial and exclusive agreement with Wowprime," said Mark Goodman, MD of ABP's international division. "It is a tangible endorsement of the quality beef that Ireland and ABP has to offer, and it is another significant step in developing new market opportunities for our products against the uncertain backdrop of Brexit."