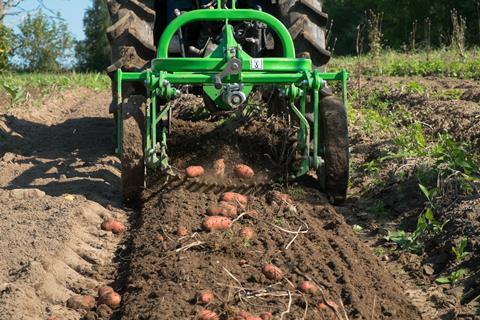 AHDB could lose its horticulture and potato arms next year in the first of a potential series of public votes over the abolition of its primary income source – the compulsory levy paid by farmers.
Disgruntled growers, unhappy at how the board collects and spends their levies, have already secured a ballot on the future funding model of AHDB's horticulture arm – which is due to take place in early-to-mid January.
A second ballot of potato growers is now also expected to take place, with growers "hugely confident" they had reached the required number of petition signatures for a vote to abolish the levy, said Lincolnshire-based grower John Bratley, who has been campaigning for reform of the levy board.
Any vote to abolish the compulsory levies would effectively spell the demise of their respective AHDB divisions due to the loss of income they would entail.
AHDB's new chair Nicholas Saphir has also commited to regular, five-yearly ballots on its levies across all other sectors as part of a planned series of reforms across the organisation.
A final decision would ultimately rest with ministers, due to AHDB's status as a non-departmental government body. However, a response to AHDB's 'Request for Views' into its future by farming minister Victoria Prentis in April agreed on calls to reform of the body. "Levy payers want a greater say in how their money should be spent and they want to know what they are getting is excellent value for money," she said.
Bratley, one of the main figures in a group called AHDB Review Petitioners, said the AHDB Horticulture division's current set-up, with a strong focus on market intelligence and R&D, was ill-suited to the growing sector – unlike in meat and dairy – as it was already "highly efficient, and doesn't receive subsidies".
The 1,000 or so growers in the sector paid an average levy of about £6,000 per year to AHDB for services it did not require, he added.
"We compete with our neighbours for a finite market so we don't need that level of support. We're not luddites, we just need a competitive advantage," he said, while adding AHDB's remit of knowledge sharing did not chime with the objectives of growers.
It comes as AHDB gears up to publish a new strategy at the start of December, which Saphir said would feature improvements to work on farm performance and marketing, underpinned by independent evidence, improved communication, alongside the commitment to regular ballots on its levy across all sectors and reviews of AHDB's governance.
Speaking in a podcast published by AHDB earlier this month, Saphir said AHDB accepted it was "time to change" and reform the organisation.
"There's a need for the statutory levy. [But] in return, we must deliver better value for money, focus on key priorities that make a positive difference to your business and help grow British agriculture and horticulture."
AHDB will hold hustings events on the horticulture ballot – where it will make its case to growers to vote to retain the levy – next month.