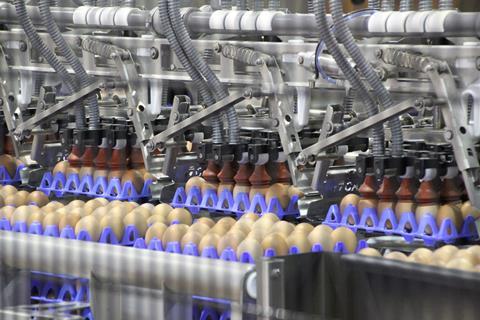 Feed costs have risen due to exchange rates and the impact of the virus on global logistics chains

Many retailers have struggled to fill shelves with eggs due to "unprecedented demand"
Egg prices could be set to rise as coronavirus hits supply chains, egg producers have warned.
Feed costs rose by approximately 10% in March, equivalent to an increase of £25 per tonne, according to figures from the British Free Range Egg Producers Association. Processors have also had to scramble to redirect production destined for foodservice and hospitality into retail.
"There have been spikes in wheat and soya on global markets and that impacts the price of feed," said Veli Moluluo, MD of Happy Egg Co owner Noble Foods.
"If we see those commodities trading consistently at higher levels, it's inevitable that we would see that inflation coming down the line in the next month."
According to the BFREPA, these rises have come from exchange rates and the impact of the virus on global logistics chains.
"The UK did not respond as well to corona as some of the other markets and sterling took a dive. As the prices of wheat and soya are created in dollars, it meant that prices at UK level went up," said BFREPA CEO Robert Gooch. "International transport chains have been affected by corona in terms of being able to access markets.
"The frustration is there's been no change in terms of what's happening in pricing levels at producer level. We've heard packers are managing to renegotiate contracts as a result of the change in demand at retail level. But unfortunately, that hasn't fed down to producers."
It comes amid what the British Egg Industry Council described as "unprecedented demand" that has seen many retailers struggle to fill shelves.
BEIC said its members had sought to redirect product from sectors that had been paused thanks to the government's stringent lockdown measures, which are now in their second week.
"The increased demand in the retail sector has been somewhat mitigated by a lower requirement from foodservice," said a spokeswoman.
"We are doing our utmost to get stock to shops as quickly as possible, but we would echo the government's call for consumers to only buy what they need."
Eggs were one of the first products to experience mass-shortages on retailers' shelves as panic-buying gripped the UK at the beginning of last month. But according to Molulo, this was also down to low supply.
"It couldn't have happened at a worse time for us. We were coming off the back of what was our biggest ever pancake day. We saw our stocks severely depleted and many of our competitors were in the same position," he added.
Whilst panic-buying has subsided over the last few days it is anticipated there will be a consistent higher level of demand in the coming months as people eat at home, according to Moluluo. And with difficulties making "like-for-like" switches from out-of-home to retail, there is no quick fix for supply in sight.
"The UK flock has remained fairly consistent over the years, so the eggs we've got on the ground for the foreseeable future are the eggs we'll have to play with. We're trying to make sure we're keeping the farms in lay for longer which means there's a larger pool of egg available, but these are reactionary activities and they take some time to start to bear fruit.
"As an industry and a business, we also need to work with the retailers to explore delivering [liquid] eggs into supermarkets in pre-broken cartons and try to educate consumers that we don't just have to purchase eggs in shells [to ease pressure on supply]."
Coronavirus-related demand pressures have also been felt upstream, with egg producers being "swamped" as more people turn to buying from farm-gate, according to BFREPA CEO Robert Gooch, who also reported that this has led to a rise in the number of reported break-ins and thefts with both eggs and hens being stolen.