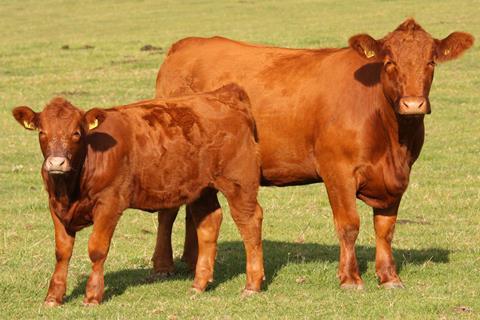 Farmgate beef prices could rise by up to a quarter in the run-up to the new year if the UK fails to secure a trade deal with the EU, analysts have warned.
As the likelihood of a no-deal Brexit increases, importers may once again turn to stockpiling ahead of 31 December in order to avoid tariffs and cross-border disruption, suggested Mintec analyst Rutika Ghodekar.
"To secure tariff-free meat, UK importers will try to get as much beef as possible from Ireland and that's going to add upward pressure to the UK beef prices,"she said.
Stocks are already lower than usual following strong sales in the summer, which would add to the price pressure, said one industry source.
AHDB's GB average deadweight steer price on 24 October stood at 368.2p/kg, marginally down from the highs of 374.3p/kg seen in August.
Mintec predicts prices could rise by 20%-25% and remain at that level for the first few months of 2021 if there is no deal. Prices would remain high due to the lack of a tariff-free quota in a no-deal scenario, said Ghodekar.
Brexit would also add logistical costs for importers, even with an EU deal, added AHDB analyst Duncan Wyatt.
However, he stressed the pricing picture would be nuanced, because post-Brexit tariffs would reduce the competitiveness of British beef exports in the EU. The second coronavirus lockdown could also have an impact, he said, but it was unlikely to have as much of an effect as seen during the first lockdown,
Average deadweight steer prices fell to 322.8p/kg on 25 April, when the beef market was plagued by soaring demand for mince by locked-down shoppers.
Prices fell because higher-value beef cuts were being left on shelf and foodservice was shutdown by lockdown measures.