After Iceland's galvanising Christmas ad, the controversies around using palm oil have been propelled into mainstream debate. But how realistic is it to cut out the commodity? And is it the answer?
Like sand, palm oil gets everywhere. It prevents pizza dough from sticking, chocolate from thickening and cream collapsing. It replaces trans fats in spreads, smooths frosting on cakes and fries crisps to a, well, crisp. The list of its uses in food and drink goes on and on. In fact, says the WWF, palm oil is found in around half of the packaged goods in our supermarkets. When Ocado launched its virtual palm oil-free aisle last month it included 5,000 products - only around 10% of its full range. In short, it is the most consumed vegetable oil on the planet, with close to 65 million tonnes produced each year globally. We can't live without it.

Or can we? Controversy that swirls around the ingredient, and its destructive impact on the rainforest, has made it nearly as ubiquitous in public debate as it is on supermarket shelves, prompting a decision by some businesses to go without.

Front and centre of that movement has been Iceland. In April 2018, the frozen food retailer pledged to remove all palm oil from its own-brand products, the first - and only - retailer to do so. "Until Iceland can guarantee palm oil is not causing rainforest destruction, we are simply saying 'no to palm oil'," said managing director Richard Walker, after witnessing its impact in Borneo first-hand. "We don't believe there is such a thing as verifiable 'sustainable' palm oil available in the mass market."
Iceland's policy switch was supported in December by Iceland's release of a provocative ad highlighting the threat to the orangutan and calling for a #NoPalmOilChristmas. The ad went viral (YouTube views currently stand at 5.8 million) and calls to boycott the oil were elevated to the mainstream.

In the past 12 months, Google searches for foods containing no palm oil were up 4,000%. The same applies to those explicitly searching for how to avoid the ingredient. "Anything that contained even the lowest amount of palm oil was being demonised, and vetoed in terms of where money was being allocated," says Linnea Mullenbach, co-founder of palm oil-free snack brand Peakz. Even sustainable sources didn't appear a viable option when developing the brand as "we were seeing people were such big advocates against any use, even at the lowest level. We always wanted to exclude it based on that reason".

"We have known about the issues surrounding palm oil for a long time, so using it was never an option for us," adds Bertel Haugen, head of innovation at Rude Health. "That was very much a conscious choice."

But how easy is it for other brands to follow this example? And should they do so?
It's hard to believe now but we weren't always so reliant on palm oil. It wasn't until the 1950s when food technologists in the UK began experimenting with the ingredient in earnest, following agricultural breakthroughs that had seen commercial plantations in south east Asia multiply. It quickly became clear the commodity ticked two important boxes: consistency and low cost.

Palm oil is the only vegetable oil with a near equal split between saturated and unsaturated fatty acids. That means it remains largely solid in temperate climates such as the UK and acts as an ideal structural substitute for fats like butter. The vast majority of plant-based oils (coconut being the exception) remain liquid at room temperature. "So if I'm trying to make a vegan protein cookie, for instance, switching out butter for rapeseed oil won't necessarily work," says Melanie Loades, founder at product developer Froghop.

That's why when Iceland began swapping out palm oil, a process it had started in 2016, it began with liquid oil. "The quickest and easiest change we made was to stop using palm oil as a frying medium, replacing it with sunflower oil, which instantly removed it from a range of products," says Walker.

At Rude Health, Haugen wasn't after a solid texture either, so cold-pressed sunflower oil and extra virgin olive oil could be added to recipes for its plant-based drinks.

Things get trickier when you're replacing solid palm oil, as is often the case in categories like bakery. Walker says that though it's mostly rapeseed and sunflower oil that's been used as a replacement in Iceland's range, "in a few instances, where palm oil was a relatively small part of the ingredient mix, we were able to enhance the quality and eating experience by reverting to traditional alternatives like butter and lard".

If a product is billed as plant-based or low fat then coconut oil or cocoa butter might be viable alternatives, says Loades, but they both come with a higher price tag.

Which takes us to the second benefit of palm oil. It's efficient and therefore affordable. Not only can oil be extracted from both the plant's fleshy outer layer as well as its hard inner kernel, but it is around 10 times more productive than the likes of soya bean or rapeseed. "It's very high yield so you get a lot more palm per hectare than from any other vegetable oil," explains Andy Green, business development director at independent certification body BM TRADA.

As a result, swapping out palm oil invariably costs money. By pledging not to pass on extra costs to its customers, Iceland says it's invested millions. "Our criteria were that replacements must have no adverse effect on the taste and enjoyability of the product, and must add no cost to the consumer," says Walker. "The second was always going to be the bigger challenge because all the alternatives to palm oil are more expensive."
Extra virgin olive oil, in particular, costs extra, agrees Haugen. "It also has implications in terms of production. Palm oil is easier to use and gives your product a longer shelf life. So, we have to take quite a few difficult commercial decisions when developing a new food or drink."

At Addo Food Group, which replaced palm oil with lard in some of its Pork Farms products, new manufacturing equipment required an investment of no less than £300k in its bakery, explains head of markets Kim Burgess. "Finding an ­alternative to palm oil is no easy task," she says. "Any ­solution requires a lot of consideration. For example, can the replacement meet the demand, is there land ­available in the right locations, is the ingredient going to be accepted by manufacturers and consumers and finally, is it a viable option from a sustainability point of view?"
Alternatives
Sustainability is arguably the consideration where things get trickiest. Iceland says it "deliberately avoided" alternatives that are also grown in areas of tropical rainforest, like coconut and shea oil, and has "done our utmost to ensure that the replacement oils we are using have been responsibly sourced".

Peakz, Rude Health and Addo Food Group also took the sustainability of alternatives into account.

But it's one thing for an individual brand or retailer to pledge to remove palm oil. For the industry as a whole to switch would require sourcing at sufficient scale to replace the upward of 60 million tonnes of palm oil the UK imports each year.

Even Walker doesn't see that as practical. Iceland was a relatively small user at about 1,000 tonnes per year, he says, which "made it easier for us to take the no palm oil route than for most retailers. And it was the only way we could really make an impact on the deforestation debate, taking the stand we did, because our leverage as a buyer was so minimal."

Were others to collectively follow suit the environmental implications could be just as damaging, if not worse. "The land space needed to harvest the world's palm oil requirement is roughly the size of Spain", says Green. "The space needed for the same amount of rapeseed oil would be the size of Canada."
"The irony of cutting out palm oil altogether is that you're actually loading the gun that will kill the last orangutan"
"The net effect of moving away is very negative," adds Inke van der Sluijs, head of EU operations at the RSPO. "It's not solving a problem, but making it worse." Coconut, for example, carries a whole host of its own social issues at the production level. In the long term the best option, she believes, is sticking with palm oil but ensuring it comes from sustainable sources.
Walker doesn't disagree. "We have never encouraged other retailers or brands to follow us in removing palm oil - though we have encouraged them to review their supply chains to ensure that the oil they are using is from genuinely sustainable sources. This is in marked contrast to our position on plastics, where we have strongly encouraged the rest of the retail industry to follow our example.

"Iceland's stance on palm oil was intended to raise public awareness of the issue of tropical deforestation and to apply pressure on the palm oil industry to deliver a genuinely sustainable solution, rather than to lead a general boycott or ban."

The problem with big public pledges to exclude palm oil though, point out others, is that it can end up with some consumers unable, or unwilling, to separate sources responsible for the mass destruction of wildlife from sustainable ones. "What makes life difficult is talking about sustainable palm oil in an environment where palm oil is demonised," adds van der Sluijs.

"There is a legitimate distinction" between sustainable and unsustainable palm oil, adds Jonathon Porritt, founder of Forum for the Future. "Until you start looking at substitution effects, and the degree to which they do or don't produce better outcomes from a sustainable point of view, you're not behaving rationally, you're following an instinct. It's not a decision taken in the long-term interest."

If the UK and European industries, which are responsible for around 27% of palm oil consumption, collectively move to palm oil alternatives the market for sustainable versions of the commodity could collapse, adds Green. "If Europe walks away from palm oil and manages this magical transformation, the only markets to sell palm oil to would be India and China.

"Those countries buy on price so as a producer you'd have to sell as cheap as you can. The way to do that is to not start putting land aside because it's high conservation or high carbon stock, to not repair buffer zones along rivers and wildlife corridors and to drain peat and plant on it, because that allows mass plantations, which are bigger and cheaper to run. That would very quickly push the orangutan into extinction.

"That's the irony of saying we don't want palm oil. You actually are loading the gun that will kill the last orangutan by doing so."
How did Iceland do it?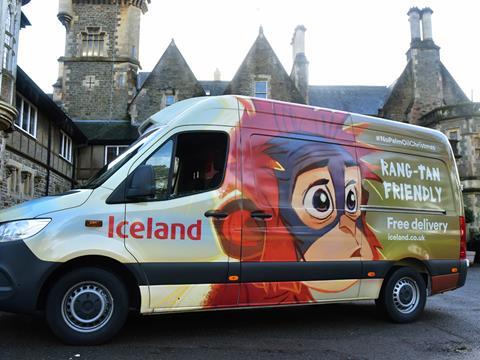 It was as early as 2016 that Iceland first began encouraging suppliers to find alternatives to palm oil. But in 2017 it accelerated its efforts. "We always knew this was going to be a major challenge because use of palm oil has become totally embedded in the food production process," says MD Richard Walker.
Swapping in alternative frying mediums was a quick win. Elsewhere it reverted to traditional alternatives like butter and lard. But for the bulk of products, it chose sunflower and rapeseed oil. In total, 130 products were reformulated and 300 new lines developed as palm oil-free.
The process has cost millions, due to pricier alternatives and the cost of equipment. So "exceptionally" challenging did 17 lines prove that Iceland has temporarily removed its branding and offered suppliers an extended deadline of April 2019. "We did not want to put them under undue pressure," says Walker. For a further 15 lines it wasn't "technically feasible" to replace palm oil and so they'll be sold under a tertiary brand.
It's work that Walker believes has helped make the case for sustainable palm. "We are naturally delighted to have contributed to the global pressure that led both the RSPO and Wilmar to make positive statements about their commitment to zero deforestation."
And "if we can be convinced that genuinely sustainable palm oil is available on the mass market, our minds are not closed for good."
Five alternatives to palm oil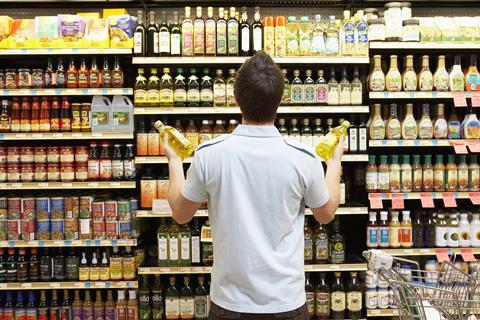 Coconut oil
Rarely does a day go by without someone or other extolling the virtues of coconut oil. High fliers in Silicon Valley even shovel MCT oil (extracted from coconut) into their coffee. For that reason it's a popular choice with emerging fmcg brands. Its high saturation point also gives it the solid texture required in categories like bakery. However, it does come with its challenges. For starters, unlike palm oil, it isn't tasteless. It's also pricier, a problem for non-premium products. And it has been routinely associated with low-paid producers struggling to keep up with demand.
Rapeseed oil
Light and versatile rapeseed is one of the most popular palm oil substitutes in Europe. Its high smoking point makes it arguably a healthier frying medium than olive oil (which loses its nutrients quicker) and it's more affordable than coconut. Again though, it has drawbacks, not least the fact that it is lower in saturated fats and therefore liquid at room temperature. It's also less efficient than palm oil, requiring far more land to harvest.
Soybean oil
A mainstay of meat-free alternatives, soy is the world's third most valuable crop, used in livestock feed, fertilisers, cosmetics and in a huge range of food and drink products. To extract the oil, soybeans are cracked, adjusted for moisture content and heated, with UK consumption at around 200,000 tonnes. Soy isn't without its own controversy though, associated with deforestation and greenhouse gas emissions.
Olive oil
A staple of the Mediterranean diet, though, olive oil is linked with all sorts of health benefits, with extra virgin varieties (mechanically pressed rather than chemically processed) regarded by some as the 'healthiest fat on Earth'. As olive oil degrades at high temperatures, it would struggle to replace palm oil in many of its high-heat industrial applications.
Sunflower oil
Not as commonly used in food production as rapeseed or soy, the UK only imports about 80,000 tonnes of sunflower oil per year. But it does have the advantage of not being predominantly produced in areas of tropical rainforest. Top producing countries include Ukraine, Argentina and Europe - making it arguably a homegrown alternative. It does however compare poorly on yield, with palm at 3.67 tonnes per hectare compared to 0.56 tonnes for sunflower.