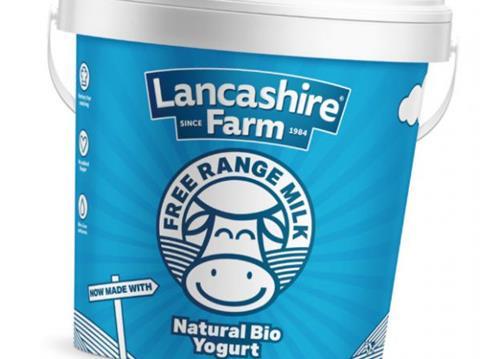 Lancashire Farm Dairies has relaunched its yoghurts with updated packaging highlighting their 'free range' status.

The dairy, which began rolling out the new look pots across the mults in March, claimed to be the first non-organic brand to use only free range milk in its all yoghurts.
In collaboration with its farmers, it has introduced a 150-day Grazing Guarantee to allow cows freedom but protect them from wet and cold conditions when necessary.

Lancashire Farm wanted to lead the sector to similar success as free range eggs, setting an industry standard with the move, said MD Azhar Zouq.

"With 4,000 British dairy farmers going out of business in the last 10 years, we want to support the sector and free range is one way of doing so," he added.

"At Lancashire Farm we see ourselves as innovators and strive to provide the best product for our customers while maintaining the welfare of our farmers and their cows."

Lancashire's 150-day guarantee compares to 180 days of grazing assured by free range milk scheme Pasture Promise and the average of 215 days at pasture claimed by Omsco-supplied organic dairy products.

Unlike free range hens, whose eggs can only be sold as free range when they are allowed continuous daytime access to vegetation-covered runs and stocked at a maximum of 2,500 birds per hectare under EU legislation, there are no hard and fast rules around the definition of free range milk or dairy products.