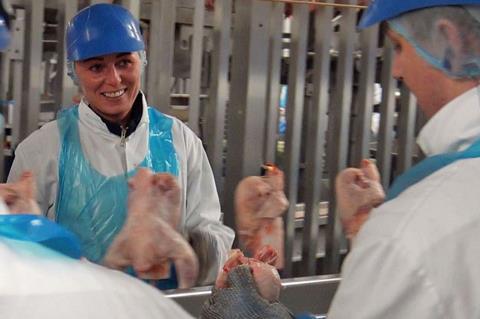 Expected CO2 gas shortages due to the planned closure of CF Fertilisers' Billingham plant could cost 2 Sisters Food Group up to £1m a week, according to founder Ranjit Singh Boparan.
And hard-up shoppers will ultimately pay the price with further inflationary rises and even reduced supply, Singh has warned.
CF said it was intending to temporarily end ammonia production at its remaining UK plant last Wednesday, due to the site being "uneconomical" against the current energy landscape.
Defra has sought to play down fears a site closure could lead to major shortages of the gas – which is a by-product of ammonia production and a key input for a host of uses across the food sector. Last week, it said the planned Billingham closure would not impact the food sector in the way it did during a major supply crisis in 2018, because the CO2 market's resilience had since improved, "with additional imports, further production from existing sources such as anaerobic digestion and bioethanol, and better stockpiles".
But Singh dismissed this suggestion, describing the import market as "non-existent", before adding his gas costs would rise twentyfold on current levels to the £1m a week mark if CF went ahead with its closure.
"Once again, UK food security is under threat, the shopper loses, and we simply have no choice other than to pay to keep supply," he said, while urging government to do more to safeguard CO2 gas supplies for the food and drink sector.
"This is a price shock just like we've seen with energy and all companies and households are feeling the pain right now. What is very sad is that it's the UK shopper who will ultimately pay the price and CO2 gas suppliers are, in effect, holding consumers hostage."
Given the importance of CO2 gas to poultry supply chains (via its uses in slaughtering, extended shelf-life packaging and in the cooling of refrigeration systems), 2 Sisters was forced to switch to the electric stunning of birds during 2018's supply crisis – so any further disruption would have a significant effect on the business, Singh suggested.
"When poultry cannot be processed, it means birds must be kept on farms where there is a potential implication for animal welfare," he added.
"The overall effect is welfare is compromised, and there is a reduced supply. My businesses are resilient, and we will navigate our way through this current CO2 crisis in partnership with our customers and suppliers. But make no mistake – negotiation is not an option here with the suppliers."
Singh is now urging the government to "take the current crisis seriously".
"This is clearly a national security issue and has to be dealt with as a matter of urgency. I'd like to see an acknowledgement of the problem and action to regulate the CO2 market, or at least consider price capping."
Singh's comments mark his latest intervention in the debate about food price inflation and an increasingly dysfunctional supply chain.
Twelve months ago, he argued previous concerns around CO2 supply from CF, coupled with the continuing lack of labour supply, could jeopardise food supplies and ruin Christmas.
At the time, he said it "beggars belief when such a key infrastructure operation can arbitrarily decide to switch off the taps because of price inflation", adding it was "irresponsible and catastrophic for our sector".
"We can't just down tools because of inflation. In my businesses, you have to roll up your sleeves as best you can and tackle it head on. Giving up and saying 'inflation is too high' is not an option."