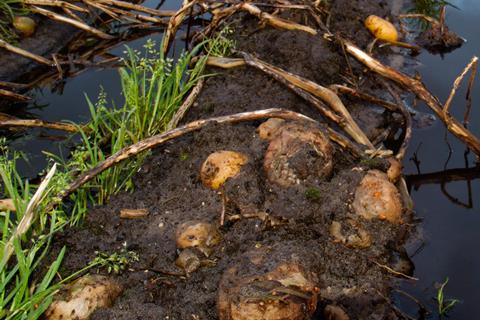 Processors are facing another UK potato shortage after heavy rains resulted in what has been described as one of the worst crops in 40 years.

Following the wettest autumn since 2012, potatoes were hitting the market at lower grades with 'higher than usual' levels of wastage, warned Essex-based grower and crisp maker Fairfields Farm. The supplier's co-founder Robert Strathern warned about 20%-25% of his yield was going to waste - up from 10%-15% in a standard year.

"Whether it's through skin blemish or harvester damage because of the very wet conditions when the machines were lifting them, the marketable yield is lower [than usual]," he said.

About 30% of the UK's processing crop was affected by heavy rainfall in key growing regions Lincolnshire and East Yorkshire between September to December, according to AHDB.

As a result, a domestic shortfall of frying potatoes was possible in 2020, it said, with 11% less potatoes in storage than the five-year average amid fears crops could spoil. "The processing sector looks like it may need more imports from Europe because of the impact of the autumn's rain," said AHDB analyst Vikki Campbell. "There are question marks about the usability of the crops they have got."

Campbell also warned there could be a "split in the market" between the price of good quality potatoes and those affected by the weather.

However, she added prices at the quality end of the table and processing potato market would not skyrocket as there was a good level of supply coming from Scotland and Europe.
It follows a difficult 2018 season which was impacted by the Beast from the East and a prolonged drought, leading to the UK's lowest potato yield since 2012.

This season's crop only bettered that figure by 4% at 5.1m tonnes but was still some 7% short of the five-year average, according to AHDB. Around 6% of the crop is still said to remain in the ground.

Major potato processor McCain this week said it was seeking to "maximise" the domestic crop but expressed concern at how big it would be. "The UK's 2018 and 2019 potato harvests have been two of the worst potato crops in the last 40 years," said its agriculture director, Daniel Metheringham.

"A significant amount of the storage crop still remains in the ground. What's more, post-harvest there is growing concern about both the amount of usable crop and the quality of potatoes to last the season."

It follows widespread disruption across the UK following Storm Ciara last week, while the country is also bracing for another bout of bad weather from Storm Dennis. The Met Office has issued yellow weather warnings for the weekend as the storm is expected to bring strong winds, rain and snow.