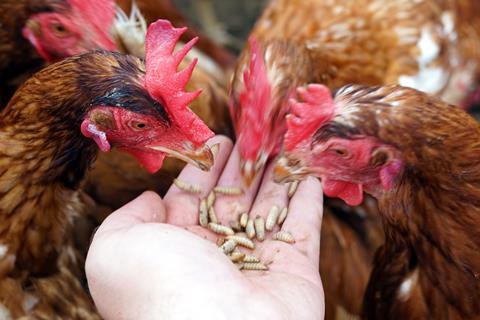 Cambridge-based tech startup Better Origin has launched what it is calling the world's first AI-powered insect mini farm which converts local waste into high-quality animal feed.
The company's X1 farm was recently trialled by Cambridgeshire egg supplier Wood Farm, and works by converting inputs such as agricultural residues into insect larvae, which can then be fed to livestock.
The X1 is located in a self-contained shipping container powered by an app which meant the farmer "always knows exactly what is going on inside at any given time" and when the larvae was ready, Better Origin said.
It was then fed to poultry on the farm, allowing the birds to feed while displaying natural behaviours such as scratching for insects.
The system could shorten feed supply chains and allow farms to become more self-sufficient, while also reducing food waste, improving welfare, productivity and yield – and ultimately creating better food produce for the consumer, the company added.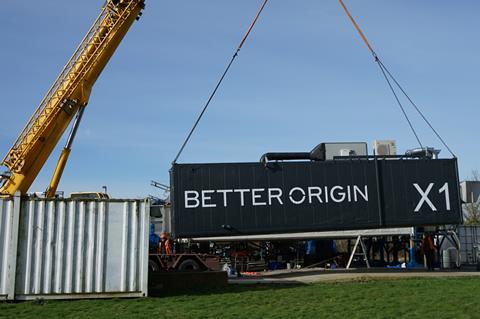 "Until now there was no accessible way for food producers to turn abundant feedstock or food waste, into useable food," said Better Origin CEO and co-founder Fotis Fotiadis.
"We're now delivering a vital solution to this global opportunity. In nature, insects convert waste into essential nutrients for animals and humans in a complete 'no-waste' cycle, but this link is absent from the modern food chain," he added.
"Our technology uses natural processes to fix the broken food system, restoring insects as the missing link in the modern food chain," Fotiadis said.
"We've created the future of sustainable food production – the Internet of Insects. This will bring about a new harmony between nature and technology – and, by so doing, transform livestock productivity and welfare and, at the same time, reduce carbon emissions and ensure global food security."
Better Origin is now planning to roll out the tech further, and said it had plans to market the X1 for the salmon farming and pet foods sectors.