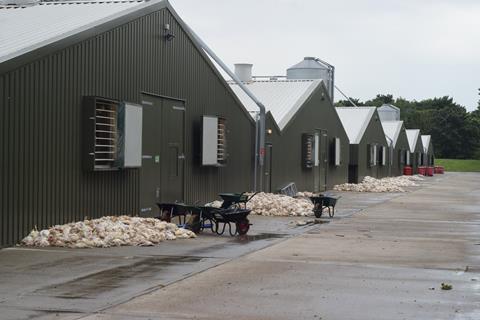 The poultry industry is facing calls for "urgent" change to bolster animal welfare standards, after last week's heatwave led to increased bird mortality.

The extreme weather had provided "a reality check" and showed producers needed to become more "climate smart" to ensure facilities for cooling production systems were "robust, properly monitored and fail-safe" said Compassion in World Farming's CEO Philip Lymbery.

His comments came after "thousands" of heat-related chicken deaths were discovered at a Moy Park farm in Lincolnshire and reported by news website The Lincolnite.
Pictures showed piles of dead chickens at the farm in Newton on Trent, with workers telling a reporter on the scene "the freak weather has done this to them".
Lymbery said the incident raised questions over the viability of intensive indoor poultry production systems, particularly in the context of climate heating.

While disagreeing with Lymbery's criticism of indoor systems, British Poultry Council CEO Richard Griffiths agreed that, with extreme weather becoming more prevalent, the poultry sector would need to "be prepared" and learn lessons from the deaths.
"While one BPC member was the example here, the extreme heat and how to safeguard our birds is something that affected all members this past week," Griffiths said.

"The effects of climate change are here for all to see, and if we are to live up to our responsibilities to our livestock and to feeding the country, we have to work hard to deal with these extremes and play an active role in mitigating other impacts."

The technology and infrastructure around ventilation and housing "has to take a step forward and this is something BPC members will be driving", he added.
Despite extensive preparations and protocols, temperatures of around 40 degrees had pushed the ventilation past its limit in Moy Park's case, he stressed. "So we need to work hard to extend its effectiveness as nobody wants what has happened here to happen again."
Responding to the incident, a Moy Park spokesman described the recent high temperatures as "very challenging for many in the farming and poultry industries".
He added the poultry giant was "working closely with our farming partners to monitor the situation" and had implemented procedures to "protect our birds against the extreme heat".