Paul Hargreaves and Paul Castle have defied the pandemic and a shortage of building materials to open a farm shop in Somerset
With more than 20 years' experience as a wholesale supplier to farm shops, Cotswold Fayre boss Paul Hargreaves long had a hankering to open one of his own.
His ambition came to fruition last month when The Flourish Foodhall & Kitchen opened for business on Glenavon Farm in Saltford, a village between Bristol and Bath.
We spoke to Hargreaves and Flourish MD Paul Castle about the development of the site, the importance of sustainability to the operation, and the challenges of building during a pandemic.
Hargreaves and Castle have known each other a long time. Their paths first crossed through the Farm Retail Association, and Castle's previous two employers were customers of Cotswold Fayre.
Castle's career in retail began in his father's village convenience store, before joining corporate operations includingn Asda and B&Q owner Kingfisher Group. His shift to farm shops and hospitality followed a period of consulting on farm diversification. It resulted in him working most recently for the Neston Park Estate in Wiltshire and Farrington's Farm Shop.
Hargreaves launched Cotswold Fayre in the late 1990s while working a poorly paid charity job. He jokes that he started selling Cotswold produce to retailers in and around London because he didn't have enough money to feed his children.
"The thinking being that, even if it didn't work, at least my kids would have something to eat," he says
From humble beginnings in the cellar of Hargreaves' home, Cotswold Fayre now represents 4,000 products from 400 brands and serves about 1,700 customers.
"Having supplied so many farm shops, at the back of my mind I've always fancied being one of our customers," he says. "Over the years, you get to see the good, the bad and the ugly of retailing."
The opportunity to open Flourish came through contacts of Castle, after the original plan to develop a shop as a farmers' co-operative fell through.
"A couple of the farmers got cold feet when they heard a Waitrose was being built down the road," explains Hargreaves. "If they had known more about the market, they would have thought this was a green light, not a red light."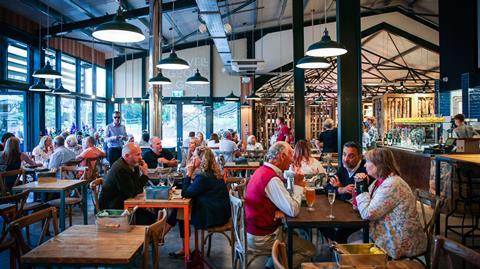 An opening date was set for 2020, but the pandemic and Brexit had other ideas. Plus, there was a shortage of building supplies including breeze block, cement and glazing units.
"We also had the normal building delays, some of which will have been blamed on the pandemic," says Castle, adding it was necessary to keep the different building trades separated on site and ensure there weren't too many people working in the same area.
"We did have a few instances where a business might all be in the same family, and one gets Covid and has to quarantine and they are all down."
However, Hargreaves feels the biggest impact of the pandemic was a positive one. Soaring demand meant Cotswold Fayre had a strong year, which reduced the amount of money the business needed to borrow for the project. Meanwhile, government support loans meant borrowing was relatively cheap.
On 24 June this year, Hargreaves and Castle officially opened the doors of the 2,000 sq ft food hall, which has an open kitchen seating 110 people and an outside terrace with a further 40 seats.
"We're in a great position, on a really busy road with great demographics in the area," says Hargreaves. "But we've still been pleasantly surprised by how many people have come through the doors without us really marketing it at all."
The most striking feature is the 40ft curved counter containing the butchery, cheesemonger and deli. Most of the produce sold on the counter is supplied locally, while all ambient goods and packaged chilled goods are from the Cotswold Fayre range.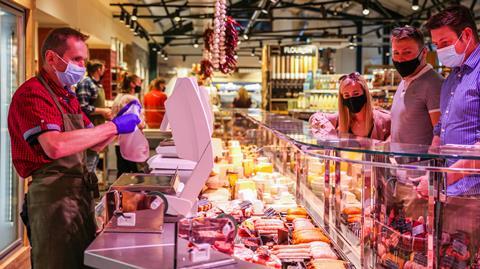 "If we are supplying a farm shop, we advise them to buy what they can locally, and everything else from us if they can," Hargreaves says. "Most places like this have far too many suppliers and having a simpler supply chain means you can keep stuff on shelves and reduce the number of people you need to run the business."
Castle adds that customers have commented on the variety of products in the Cotswold Fayre range. "I was a little worried when we started there would be gaps in the range but it has exceeded my expectations on every front," he says.
"There is a bit of perception in the farm shop market that it's all retired folk wanting tea and cake and I think expectations are now far greater, as is the expectation of the quality of food."
Customers have praised how little plastic is used on the fruit and veg display, although Flourish hasn't yet realised its ambition to be totally plastic-free.
"Some suppliers haven't moved as fast as we had hoped on this, but I'm not blaming them as there are technical issues that need to be overcome," says Hargreaves.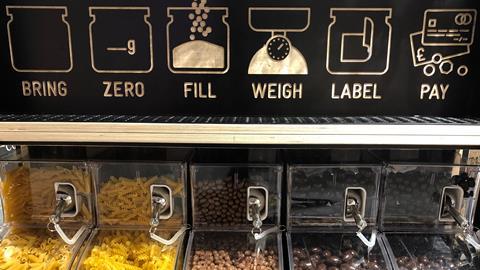 Cotswold Fayre is a B Corp business, which means it has committed to being better for the world in areas including the environment, workers and the community.
This will see the development of space behind the shop into a conservation area, which will be open to the public and will include two ponds, beehives and extensive wildflower plantings.
B Corp status is also helping the business attract committed and enthusiastic staff, Hargreaves says. "We have got a lot better at putting out there what we stand for – good for people, good for planet – and it's making a big difference to the quality of people we are attracting."
It's a view echoed by Castle, who adds that a business has to pay the right wages to get the right staff. "Getting chefs these days is really difficult, for example, and you've got to set your stall out," he says.
"Purpose-driven business is the way to go and looking after people and planet is at the forefront of everything we do."
The business is already making plans for helping the local community, including Chatty Tuesday coffee mornings for people who live on their own, supporting Veterans' Days, and offering discounts for those with emergency services ID.
"We want to ensure we are seen by the local community for what we contribute, not just what we take out," says Castle. "We want to be seen as a friend rather than a busy place on the side of the road."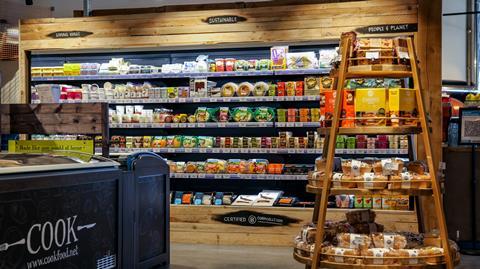 Flourish is also set to benefit the wider Cotswold Fayre business, with Hargreaves planning to bring customers to the store to see "the biggest and best showroom we've ever had".
"It will also give us the opportunity to try out products we might be thinking of bringing into the wholesale range but aren't quite sure about, and to see what promotions work," he adds.
Flourish could also herald further retail expansion. Hargreaves believes the farm shop market is at an interesting point in its development, with many good shops being run by a generation who are looking to retire, and who don't have children to pass the business onto.
"There's probably quite a lot of farmers who want to keep the revenue on the building but don't want to run it themselves," he says. "So other opportunities may come up."