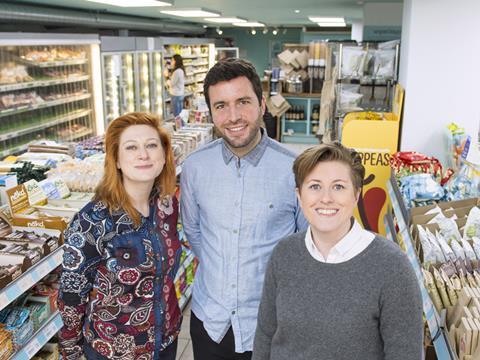 Transforming food retail is an ambitious undertaking. But with the likes of M&S knocking on its door seeking advice, Brighton-based 'ethical supermarket' Hisbe appears to be well on the way.

Founded by Jack Simmonds and sisters Amy and Ruth Anslow in 2013, the city centre store was reducing plastic and tackling food waste long before it was fashionable. With its pilot store now open for five years, the self-styled rebel retailer now wants to expand, with plans to open 10 stores in the next five years.

A sustainable and ethical supermarket might sound too good to be true, but social enterprise Hisbe insists it has found a way. An impressive 67p of every £1 going into the tills goes back to suppliers, whose little and often deliveries ensure low levels of waste. Edible food is reduced ahead of going off or given free to customers or staff, and a 12-strong team all earn the living wage of £8.75 per hour.

Hisbe is not entirely plastic-free, but the majority of fruit and veg is sold loose to cut down on plastic, and taps at the back of the store refill household products, such as laundry detergent, into reusable packs brought in by customers. Its dry goods refill station has proven so popular Hisbe has now removed packaged alternatives completely, instead filling the shelf space with empty jars and compostable bags for pasta and rice.
Now turning over £1.7m, the founders are determined to roll the concept out. "To transform the food industry, we need to expand and be copied," says Ruth. "It took us two years to ensure our model was commercially viable - now it comfortably pays its bills and makes enough for us to look at future stores."
The team has experienced setbacks. When trying to open a second store in nearby Kemptown last year, after raising the cash via crowdfunding - which it also used for the pilot store - their offer on the site of a former Tesco Express was rejected by the landlord (they're reluctant to say why).

Unperturbed, they're now looking to adapt their approach, hiring a new director of expansion to lead growth and raise the necessary £2m to expand.


"We realised from pursuing the second store that the three of us doing it ourselves wasn't going to cut it," says Ruth. "So we hired someone with the expertise and a background in green energy to project manage a pipeline of stores."

Each new store will be less than 3,000 sq ft so it can remain open as many hours as possible, and will be reflective of the local demographic. "That's what's going to set us apart," says Amy. "Our stores won't be cookie cutters. We'll have the flexibility of a network of local suppliers attached to different stores, allowing us to modify ranges in response to what customers want."

Finding the space that fit the bill first could be the biggest challenge, explains Amy. "The pilot store is a double unit that has been knocked together, and it's unusual to have a premises of that size available to businesses at our early stage - they're usually snapped up by larger chains."
To tackle this problem, would they consider looking outside Brighton & Hove? "Our immediate vision is a local chain because it's all about scaling up the local suppliers, putting money into the local economy and creating jobs. That's the backbone of the food industry's transformation - suppliers being more resilient. Once we have done this in Brighton & Hove, we should be able to export the model to other places."

Hisbe sources locally where possible and has used insights from ethical consultancy Ethical Consumer to inform stock decisions, while gradually replacing bigger brands with smaller fledging companies.

The Pukka Herbs tea range was swiftly removed after the company was recently acquired by Unilever, to be replaced with smaller brands including Bird & Blend Tea Co (whose flagship store is within walking distance of Hisbe), and fellow social enterprise Nemi Tea.

Despite challenges, Hisbe's vision of transforming the food industry is taking shape. Plastic and waste reduction are hot topics for supermarkets and suppliers as they work on eradicating plastic packaging and food waste. As Ruth says: "We're watching the trends all go in the right direction and getting our store set out and ready for when that comes."