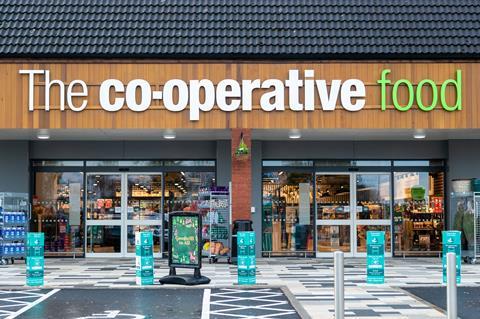 Central England Co-op has made its biggest investment on record to open a new concept store that will showcase several "pioneering features" for the first time.
The 11,000 sq ft store at Boley Park in Lichfield will debut free water refills, eco-friendly fridges that reduce carbon footprint by 60%, and a zero-waste refill hub.
The society began the transformation back in August after knocking down its own supermarket, which traded there previously, in order to make room for the new store that opened today (19 November).
It said this larger size will allow it to offer customers a better shopping experience with bigger aisles and room for innovations.
The zero-waste refill hub, for example, will see the society working with wholesaler and DTC business Suma in a concept known as the Refillery.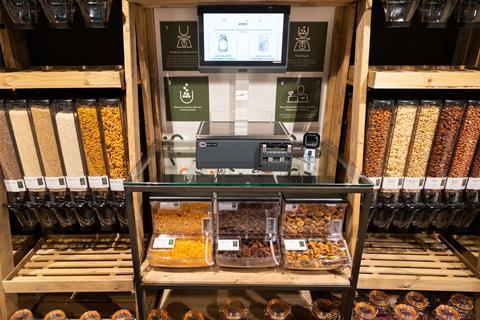 It features large dispensers filled with Suma products that are 100% organic, vegan and Fairtrade and will allow customers to weigh products into their own containers in a bid to cut down on food packaging and waste.
Other features, such as the free hot and cold water refills, will be showcased in its food-to-go area where customers can top up their own water bottles.
It can also be used to heat up baby bottles if needed, before using the new indoor or outdoor seating areas.
"With the £3 million investment green-lit, we knew it would be a perfect place to showcase everything we feel we represent," store manager Jamie Joyce told The Grocer.
"We want to be seen as a community retailer with a brand new look that is inspired by the local area and offers a raft of community benefits."
He said the majority of these new features were exclusive to the new store, but some items had been trialled elsewhere, such as self-scan in its Fradley store.
"This was only a low-level trial and Boley will be the first site where it will be rolled out in full, in the way we expect to use the technology going forward," he added.
The revamp also saw a brand new petrol station open on site last month, as well as a redesigned car park including wider spaces, better traffic flow, improved lighting and walkways.
A new car wash, electric charging points for cars and a bike repair station were also added to the site and are all owned by Central England Co-op.
The retailer said the roll out of the various new products and services aims to appeal to "people of all ages and walks of life".
"Now, more than ever due to the pandemic, convenience shopping could not be more important," said Joyce.
"That's why we are launching sites like Boley – community stores that provide great products and great services for local people to ensure they have access to everything they need right at the end of their street."