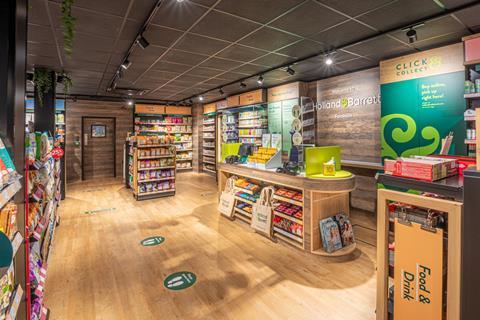 Holland & Barrett has treated a second store to a sustainability, technology and futureproofing-purposed refit.
The health and wellness retailer has revamped its Farnham, Surrey branch using 100% recyclable material, following a similar makeover at its Chelmsford shop in July.
The 1,011 sq ft Farnham branch now features LED lighting, a click & collect service and 250 new products. Lines include supplements, vitamins and its cruelty-free beauty range.
To help limit contact with staff, customers can scan QR codes in the store to get more information on individual products.
The smaller store footprint means some elements from the 2,000 sq ft Chelmsford branch have not made it to Farnham, including a refill station, energy-efficient chillers and freezers, digital screens displaying promotions, and free private video or face-to-face consultations with nutritionists and personal trainers.
Holland & Barrett has split its estate into two store types: 'service hubs,' and 'neighbourhood', with Chelmsford falling into the former category and Farnham the latter.
"The new Farnham site represents the latest in a new era of store for Holland & Barrett," said a spokeswoman. "Sustainability has been a focus with the business reviewing everything from shelving and shop fitting, as well as lighting redesigned to be more efficient, reduce energy consumption and cut carbon emissions."
Farnham store manager Kim Hudson said: "Myself and the team are really looking forward to welcoming customers back to our redesigned concept store. We have so much to offer people in the area, from advice on wellness to a great range of foods for dietary requirements including vegetarians, vegans and coeliac."