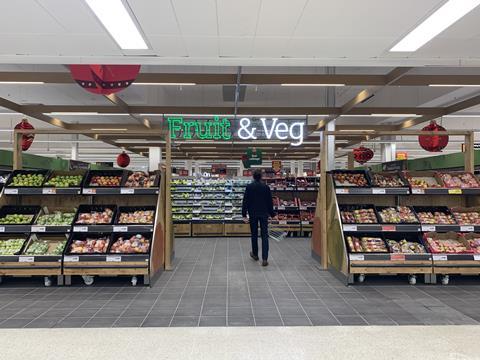 Sainsbury's has opened the doors of its first Fresh Food Market style store as part of its food-first strategy.
The supermarket has unveiled the refitted branch in Hempstead Valley, Kent, which features a market-inspired presentation of its fruit and vegetables range, as well as a focus on seasonal produce and British heritage.
Other updated sections as part of the pilot include a revamped café, new-look bakery, hot pizza counter, self-serve patisserie counter, food-to-go hub, revamped beauty department and floral range. This comes alongside a newly installed Argos store in-store, updated Tu clothing and home section, decorative imagery, refreshed signage, lighting and fixtures, and a refurbished petrol station due to open in "a few weeks".
Sainsbury's said this first refit will allow it to review how its customers and staff members interact with the new environment before continuing to roll out "more changes to stores" across its estate, including more Fresh Food Markets.
The upgrade comes as part of a multi million-pound redevelopment across Sainsbury's store estate that began last June and is due for completion in February 2021. Sainsbury's said the new format branch represents one of its largest individual investments in a store renewal this year.
The redevelopment proposals have already seen the supermarket giant reveal plans to open 15 additional 'neighbourhood hub' style convenience stores over the next three years on top of the three it has already opened. These are designed to be a hybrid of its full line supermarkets and convenience offer.
"At Sainsbury's we put food first and our new Fresh Food Market is a great example of what we are doing to delight our customers in our stores and showcase our brilliant products," said Graham Biggart, commercial operations director. "We have created an environment that is both exciting and easier for our customers to shop our delicious, nutritious and great value food. We have also designed the Fresh Food Market to be operationally simpler for colleagues to replenish and maintain. We're looking forward to hearing what our customers and colleagues think of the new format and design as we prepare to roll out more changes across our stores in the future."
Patrick Dunne, property director at Sainsbury's, added: "Hempstead Valley marks the start of a new style superstore that gives our customers the product choice they want alongside the convenience we know they need. I'm confident the new look store will appeal to Hempstead Valley residents and be a true shopping destination."