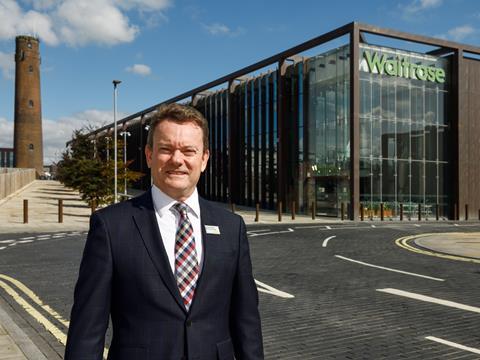 It must be great to win in the week Waitrose became Waitrose & Partners. Absolutely, and our partners are so enthusiastic about the rebrand. It's already sparked conversation with customers.

How do you reward great customer service? We have an intranet chatroom we can all access to keep up to date with goings-on in the store. If a partner has done something great that gets shared there. If a partner does something really exceptional we also give gifts to recognise that, which could be anything from chocolates, wine, or a family ticket to Chester Zoo. Going the extra mile for customers is really important. For example, we have one customer who has a boy with autism who comes into the store with his family every day. Partners always make an effort to talk to and play with him, and I got a thank you letter from his parents recently. Through things like that, I can see our partners make a real difference to customers' lives

How do you maintain strong availability? It's improved thanks partly to the technology we've implemented to help. Shop floor partners have tablets they can use to check stock levels, when the last delivery was and when the next one is, and give customers more information about products.

Retail is your second career. How did that come about? I was in the army for 25 years and joined Waitrose when I got back to the UK eight years ago. I was actually trained by Cath Harrison, store manager of Waitrose in Preston, which won store of the week last week. I knew Waitrose was a good business to work for because my mum worked here for 17 years - it's a very respectful and democratic environment.

What's the key to managing a store effectively? It's all about clear communication with partners - I always have my door open and am happy to hear ideas. One approached me about having an evening in the store to bring the charities our customers had supported over a year to get them working together. We ended up doing this and it led to lots of collaboration between the charities, such as Guide Dogs working with a local hospice to give patients some company.

How is Waitrose's ongoing range review impacting the store? I've seen a lot of vegan and vegetarian lines coming in and plenty of dairy alternatives, which have all been selling very well through the summer. Our bread assortment has changed too and we now have more space for local suppliers because we've removed duplicate lines.

Your store was one of the first to get a wine bar. Is it popular? It's been a huge success. Our events at the bar take place at least once a month and often feature talks from our specialists. It's through features like this that we aim to be a store with much more than groceries. If customers want to relax and try something new we can give them the space to do that, but equally if they want to pop in we can cater for that.

How have customers taken to the disposable coffee cup and plastic straw bans? Reaction has been overwhelmingly positive to both. It now seems natural for MyWaitrose cardholders to bring a reusable cup to redeem their free hot drink, and many said they felt it was right for Waitrose to lead the way on this.
Winner: Waitrose Chester
Store manager: Dickie Danby
Opened: 2014
Size: 30,000 sq ft
Market share: 6.1%
Nearest rivals: Tesco - 0.4 miles, Aldi - 0.5 miles, Morrisons - 1.2 miles, Sainsbury's - 1.6 miles
Store data source: Analysis by CACI. Call the market planning group on 020 7602 6000