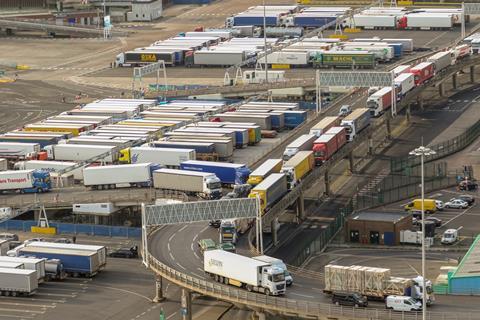 Industry leaders have called on the government to compensate companies whose trucks are stranded at Dover, after ministers were accused of deliberately misleading the public about the extent of the crisis.
An emergency session of the Business, Energy and Industrial Strategy (BEIS) committee this afternoon was told at least 4,000 lorries were stranded on their way to the port, rather than the 150 previously claimed by the government, with some estimates as high as 7,000.
The PM was also slammed for announcing the new strain of Covid on Saturday without warning the industry or the ports of what one transport boss described as the worst chaos ever seen by the supply chain.
"There are roughly 4,000 lorries on their way to Dover at various points," FDF CEO Ian Wright told the committee, claiming the government had bungled its handling of the announcement, which prompted France to close its border.
"There are dozens of lorries with products that are going off," he said. "There's a huge hit happening, as we speak, to Scottish seafood.
"Much of this could have been avoided. The government knew this would happen when they made their announcement. Chris Whitty, probably quite rightly, went out of his way to scaremonger the population about the new variant of Covid. All of this could have been predicted.
"I don't know whether the government made the authorities at Dover aware of this announcement but it doesn't look like it, and the consequence has been this chaos.
"You didn't have to be Mystic Meg to know what was coming."
Wright added: "I believe it's incumbent on the government to come forward and compensate those that have been affected."
He said it was "astonishing" the government was planning to compensate families whose travel plans had been hit by the extension of tier 4 restrictions but had offered no financial support for companies hit by the port chaos.
The FDF is warning the Scottish seafood sector alone is losing "millions of pounds a day" because of the crisis, with products such as salmon and lobster having to be destroyed.
"Short of opening a lobster shack on the M20 and selling it to the French drivers, there's nothing they can do," said Wright.
He said a huge range of ingredients across the food industry were impacted by the delays, which he warned would make preparations for the end of the Brexit transition period even more difficult.
"Many, many businesses have stockpiled ingredients but many will have planned to build those stocks in the week after Christmas. If those lorries are in the wrong place as a consequence of all of this, that stock-building may not be possible."
BRC director of food and sustainability Andrew Opie admitted retailers had also been completely taken by surprise by the government's announcement, although he said supermarkets would not be seeking compensation.
"The thing that surprised us was the speed of the announcement and the speed of the closure," he said.
This morning Opie warned supermarkets would begin to run out of a raft of fresh food items unless a solution to the crisis was found within 24 hours. He told the committee: "We're told by members unless the borders open fully we will see problems from 27 December."
Duncan Buchanan, policy director of the Road Haulage Association, said by the end of today as many as 7,000 trucks could be delayed.
He told the committee the disruption would mean companies that had been planning to stockpile for Brexit being unable to build up their capacity as planned.
"The disruption to the supply chain is enormous," he said. "There are hundreds and hundreds of lorries all over Kent.
"This is a supply chain disruption that is far more widespread then we have been used to dealing with.
"This is the start of a very, very serious supply chain disruption, the likes of which we have never experienced.
"Retailers have spoken about how they are prepared for Christmas but the reality is unless this situation recovers very fast, we are going to see the shops stock affected after Christmas."
Amid fears that a no-deal Brexit could see lorries routinely marooned in Kent, Buchanan added: "If we are going to see thousands of lorries staying at Manston airfield on a regular basis it's just catastrophic."
FDF boss Wright said he feared the scenes currently witnessed at Dover could be repeated as a result of a failure to reach a trade agreement.
"These scenes at Dover could be replicated at any point going forward," he said. "We have seen some of those scenes before.
"Operation Stack is almost a medieval ritual now but the impact of this on the supply chain is the concern. I think you will see this again, particularly if we get a no-deal Brexit with the imposition of tariffs. It won't necessarily be as bad as this but this will become a commonplace thing."