Babies deserve better options - such as HPP foods
Walk down the petfood aisle in some UK supermarkets, and among all the ambient tins, packets and pouches of dog and catfood, you will find a fridge for chilled petfood. Walk the baby aisle, however, and you will be confronted with a sea of ambient, long-life babyfood, some of which has a shelf life of up to two years. Imagine feeding your six-month-old something older than them!

Even a forensic search of the store will not lead you to any chilled babyfood. Why? Parents tell us they know they are compromising freshness and nutrition for convenience when they feed their child the products currently on the market, and indeed 25% of parents do not enter the category at all for this reason. Are we seriously saying shoppers should be given the choice of ambient and chilled food for their 'fur babies' but not for their actual babies?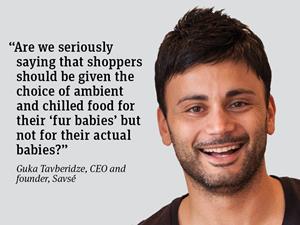 It's widely accepted that the industry needs to help improve the nutritional quality of the food and drink parents feed their children to ensure they have a healthier future. It's time to acknowledge and work together to change the choice of babyfood available, as well as the in-store shopping experience.

Advancements in food technology mean shoppers and consumers can now access products that offer the same taste and nutritional balance as homemade food and drink, but with the benefit of a shelf life. There is no need to compromise any more.

This fact was supported by Channel 4's Food Unwrapped, which recently highlighted the future of food preservation - HPP (high pressure processing) - and its benefits vs the traditional heat-based methods. Tests revealed that heat-pasteurised babyfood can lose up to 35% of its nutritional value in processing compared with less than 5% for HPP products. Moreover, some pasteurised manufacturers then add vitamins back into the product to replace those natural ones the heat treatment process has killed. Babies deserve better.

The category really needs to be shaken up. Wet ambient babyfood has seen a slowdown in the growth rates from a value perspective over the past two years. Organic has been the benchmark of quality in the category for years, but the new generation of parents are changing their way of thinking, allowing space for us as manufacturers to innovate and bring value and volume back into the market.

At Savsé we've applied the same technology used for our cold-pressed HPP juices and smoothies to babyfood. My First Savsé is Europe's first cold-pressed HPP babyfood for babies aged four months and over. Due to the HPP cold-press method, the product has a shelf life of 90 days when kept refrigerated, making it perfect for parents looking for convenience without compromise. In-store we're already working with customers to merchandise products in the chilled ready meal section, but of course the real solution is to place chillers in the baby aisle, which we are working on.

If we want to encourage a lifetime of healthy eating in our future generations then it needs to start with the very first bite. The time for change is now.

Guka Tavberidze is CEO and founder of Savsé