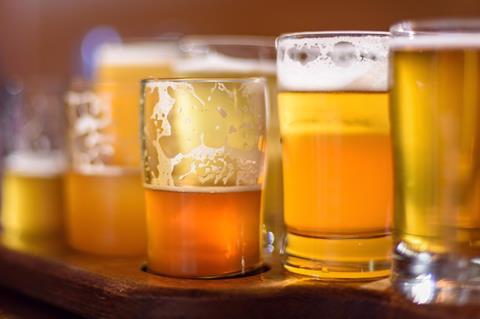 Tesco is throwing itself headfirst into stronger and more experimental beer styles with a major update to its craft beer range due to hit its shelves next month, The Grocer has learned.
The retailer plans to launch a slew of new brews from craft players such as Wild Card, Fourpure, Unbarred and Thornbridge on 1 April, many of which will be packed in 440ml cans and coming in above the 6% abv mark.
The total number of new SKUs to hit Tesco - and whether any brands will face delistings to make way for them - is not yet clear.
But sources claim Tesco has taken a much more hands-on approach to craft in the lead-up to launching the range, in some cases specifically requesting different styles and strengths of brew from suppliers - erring firmly towards those with higher abvs.
One brewing industry source told The Grocer some brands "have been steered towards brewing x, y or z. Tesco have spent some time analysing and looking at their portfolio and picking things off a list to get in there."
Another added: "For Tesco to view a beer now as 'proper craft' it needs to be stronger."
Wild Card's incoming DDH IPA, for instance, is 7.5% abv, while Fourpure's 'Coastline' brew is a 6% abv gooseberry and vanilla dry-hopped sour. Yelamu double IPA, a Thornbridge and Magic Rock collaboration, weighs in at 7.4% abv. BrewDog has also picked up a listing for Funk X Punk, the sour interpretation of its flagship Punk IPA, it is understood.
However, Tesco buying manager for lager Dom Hill said: "An over-arching theme behind the change is increased choice for those looking to drink less, but better - through the introduction of smaller, more flexible formats and the launch of exploratory and boundary-pushing craft beers."
It marked "a steady step forward" in Tesco's approach to craft, the first source suggested. "They've been getting more and more focused on it as a category and what they're bringing to customers is incredible."
Tesco upped its share of the beer market this year, rising 29.2% for the year ending 30 December 2018 compared with 28.1% the previous year. In fact, it was the only big four retailer to up its share of the total BWS market last year, growing its share from 27.2% to 28% [Kantar Worldpanel].
The coming update will also see AB InBev's recently launched Michelob Ultra and Molson Coors' Pravha lagers roll out as part of Tesco's more mainstream beer offering.