What exactly can Ocado's new robot chef do? The Grocer spoke to Ocado head of corporate development Stewart McGuire and Karakuri CEO and co-founder Barney Wragg to find out
Ocado today announced its first departure from grocery with an investment in robot chef startup that will enable it to move into ready-to-eat food.

The online supermarket is set to take delivery of its first robot chef in the second half of this year, after its ventures arm acquired 18% of UK-based startup Karakuri for £4.75m.

So what exactly can the machine do? And what is Ocado's vision for the technology? The Grocer exclusively interviewed Ocado head of corporate development Stewart McGuire and Karakuri CEO and co-founder Barney Wragg ahead of today's announcement.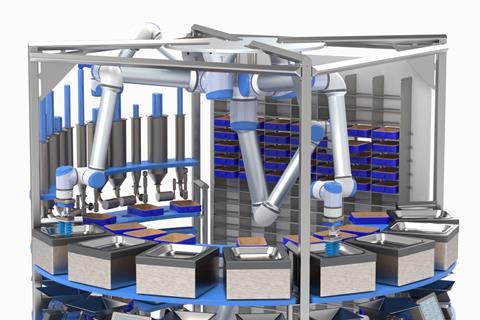 The machine
Called the DK-One, the robot chef holds up to 48 different ingredients in separate compartments, each capable of dispensing a precise amount of its contents. The machine uses robotic arms to take a box or plate past each dispensing location on a "flight path" designed to create a specified dish, says Wragg. On the way, cameras use machine vision to check the dish looks as it should "at all times", he adds.
Combined in their various permutations, the 48 ingredients can create a "ridiculously large number" of different dishes according to Wragg.

Just as interestingly, the technology creates the potential for consumers to design their own dishes according to their calorie, nutritional or allergen specifications. Introduced into the Ocado Zoom rapid delivery service in west London - which the online retailer sees as an area of opportunity for the technology - it could allow customers to do this as they order online.

"It's not just a case of saying I want tomatoes and you get a portion of tomatoes," says Wragg. "You can say I want tomatoes and I want this many of them. I want it this weight.

"What that allows you to do is create a proposition to the consumer where they can select what they want in their meal, and you can tell them things about the nutritional, protein and calorific content.

"And you can allow them to dynamically change that before they confirm their order. You can develop a user interface that allows you to slide back the calories and we can dynamically adjust the portions that you've ordered."
DK-One specifications
Output: One meal per 10 seconds (assuming an average 5.6 ingredients per meal)
Maximum time from order to meal collection: Two minutes
Dimensions: 2,100mm in height by 1,800mm diameter (designed to pass through a doorway)
Weight: 1,125kg

Wragg compares the end result to a car coming off a modern automated production line, built to the precise and potentially unique specifications of its intended owner. "When you look at the build sheet now on a Golf, it's got all the detail, like when it went through the paint shop. That's the technology that we're bringing into commercial kitchens, from the point of view of quality auditing, health and safety, allergens and consumer confidence."

Of course some customers may not want to design their own dishes. "Obviously it's easy to predetermine a set of ingredients and have that as a one-click button for somebody, so you could have a standard portion of Caesar salad," says Wragg.
Or it could be a "curry, Thai or Chinese", all well within the DK-One's repertoire.
Using machine learning, the technology can also reduce food waste, Wragg claims. "Because our machines are smart, they learn the behaviour of orders that are coming in. We look at weather patterns, traffic patterns and news information, and get much smarter at placing orders on our suppliers of highly perishable goods, so we don't get the wastage of a massive order in a restaurant that doesn't get used."

One thing the DK-One can't do is cook. In the case of a curry sauce, or cooked meat, the ingredients need to be prepared first, potentially by a human, before they are held at the appropriate temperature in the DK-One.

But this is just the first-generation machine from the year-old startup, of which Ocado now has a seat on the board. Karakuri is developing robots that perform every aspect of the preparation of ready-to-eat food. "We have a long-term plan developing stuff that goes through grilling, frying, cooking, chopping, the whole range of everything that you could imagine goes on inside a kitchen," says Wragg.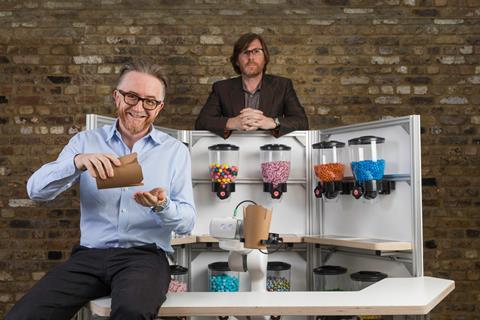 The vision
"We have to start somewhere and this is where we're starting", adds McGuire. The DK-One will go into the canteen of Ocado's headquarters in Hatfield, but the business is clear about its ambition to add robot chefs to its own robotic grocery warehouse technology, supplied to international partners including Kroger in the US and Casino in France as the Ocado Smart Platform. Ocado has agreed unspecified targets for uptake of Karakuri's technology as a condition of acquiring more shares in the company.
In the UK, it could attract previously unreached customers to "Zoom plus Karakuri", says McGuire.

"If you're living on your own, the likelihood that you're going to order something from Ocado is obviously lower than if you're living in a big family. So this does provide a new set of potential customers," he says.
He sees the full potential as lying in the offer of ready-to-eat food and groceries together. "I might want to cook a steak, but I also want a prepared salad from the Karakuri machine, because I don't want to buy tomatoes and onions and spinach and lettuce or whatever and chop it up. So I buy the Angus steak and the salad that's prepared and it comes together. That's obviously not available now but that is a vision."
It means it can bring customers not just directly from the restaurant delivery market but also from bricks and mortar convenience retailers by combining the offerings of both, he adds. "If you're a single-person household who would normally order from Deliveroo or you'd go to Sainsbury's Local, this person is now a potential Zoom customer. They're in play where they weren't in play before."
When Ocado customers can expect to be able to order restaurant-style food with their groceries is not yet clear. It will be a decision for Ocado's recently formed UK joint venture with M&S, McGuire says. "But the view definitely is that we want to provide a solution for any of our partners including the JV, should it choose to do so."
He won't be drawn beyond adding that as a potential Zoom customer himself, "I would like to be able to order a curry and a pad Thai and a salad along with my groceries."
There seems little doubt that he will get his wish.

Steve is deputy news editor at The Grocer.

He's responsible for covering the discounters and retail property, and for commissioning and editing The Grocer's analysis features. He has over 20 years' experience as a journalist, during which his by line has appeared regularly in a range of national newspapers.

Follow Steve on Twitter: @Steve_Farrell_
View full Profile