In today's factories there's a lot more to technology than conveyor belts. Specialised machinery is enabling faster, cheaper and more efficient production and distribution. And despite fears that increased levels of automation will result in robots taking our jobs, in many cases new initiatives are helping create work and even increase pay for humans. Technology is responsible for the odd curveball, too. Artificially intelligent beer, anyone?
An artificially intelligent beer that uses data to adapt its own recipe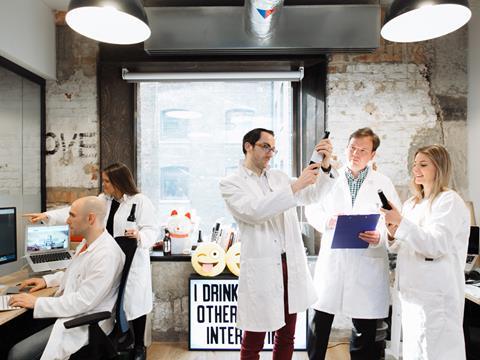 A beer that makes you smarter? Sorry, not yet. But a London-based startup has created a beer that improves in response to direct customer feedback. "We created what we called the world's first artificially intelligent beer," says Dr Rob McInerney, co-founder of Intelligent X.
For the past two years, each bottle has carried a Facebook Messenger code for consumers to interact with a bot via the app. Using machine learning, the bot asks a series of questions, such as whether they would like more alcohol in the beer, and uses the answers to determine follow-up questions. Answers are used to alter the recipe of the next batch, which has now been changed over 30 times. "We have to keep changing the beer, that's what the market needs. The only limitation is how many breweries Intelligent X collaborates with."
The company is now trialling "a combination of an e-commerce platform and a mechanism for gathering data," as it prepares to launch its direct to consumer model in the next couple of months.
There are currently four core beers on offer. But they might not stop at beer. "We may release other products within Intelligent X. We may also look to create new brands or work with other brands."
Better efficiency & output with the million-pound mincing machine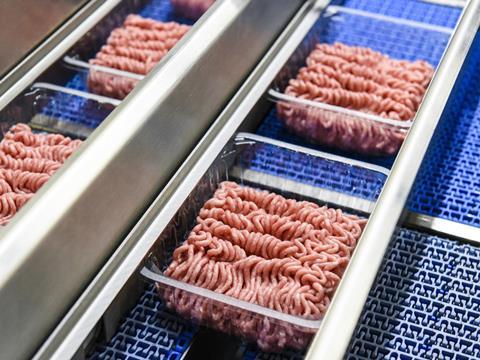 Tulip claims it is already seeing the benefits since its new £1m mincing line became fully operational in August. The pork giant forked out for a state of the art unit at its Tipton site "to improve efficiencies and increase output".
And it's already paying off, according to Mike Wijnberg, managing director of Tulip's Fresh division. "We've increased business through significant additional volumes of mince being processed for a key client each week. It also gives us the capacity to respond much quicker to any additional customer promotional activity."
Wijnberg says its success means Tulip is now looking to invest in new slicing technology as well. "The equipment we're looking at is top of the range, with in-line impingement and press to maximise efficiency."
Picking, packing and conveyor technology buys back an hour a day for each driver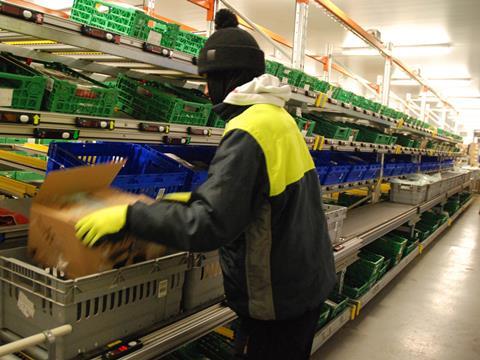 Delivering organic veg to 50,000 homes nationwide each week is no mean feat. And on top of that, Riverford Organic has increased its offering to include tinned food, drinks, fresh fruit and meat. But expanding its range created a bottleneck that the Devon-based company turned to automation to resolve.
"We have around 70 dedicated franchised distributor partners across the UK, each of whom deliver veg boxes as well as the additional items our customers order from our website," says Sue Jones, head of business systems at Riverford. "When we offered a few additional products to customers, this was not an issue; but once that number began to escalate, the task of picking became onerous for our drivers. It was obvious we needed to embrace automation."
Its headquarters in Buckfastleigh now features automated picking, packing and conveyor technology, implemented by system provider Daifuku. A pick-to-light system for handling ambient, chilled and meat products – separately, of course – directs staff to the items needed for each delivery to speed up the process. And a conveyor transports new purpose-made totes to the picking staff. Riverford says it sought the automation to "improve customer choice and delivery performance at the doorstep", but Jones says increased efficiency at the warehouse has also given each driver an hour back each day.
A state-of-the-art 'command centre' for Nestlé's operations in the UK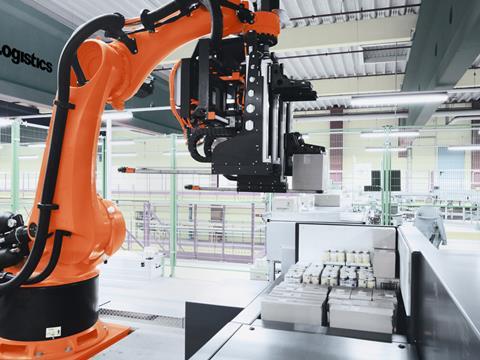 Scheduled for completion in 2020, XPO Logistics' new site in Leicestershire will be "the UK logistics command centre for some of Nestlé's world-famous brands and consumer packaged goods" including Kit Kat and Nescafé. The global logistics company says "the state-of-the-art facility" will feature "integrated data analytics and intelligent machines, alongside advanced sorting systems and robotics", co-developed with Swisslog Logistics Automation.
"With the introduction of end-of-line automation, we will be able to streamline operations for Nestlé and allow it to meet the increasing consumer demand. People and robots will work seamlessly together at the facility, with technology such as advanced sortation systems, robotics and indoor drones delivering consistent peak performance."
Smart robots will be utilised on activities such as pallet builds, automatically building mixed product pallets of varying case sizes, and "large-scale gantry robots will be able to build rainbow layer pallets automatically from pallet storage". "This will then be transported and presented for dispatch to Nestlé customers. Smart glasses will support accuracy and the introduction of drones to help manage inventory will ensure we optimise processes across the board."
XPO Logistics says the warehouse will be "an incubator for XPO innovations, a place for us to use state-of-the-art technology while beta-testing emerging tech." An on-site innovation lab will support the continual development of this new technology, which can receive instant feedback when tested on site. The success of its prototypes, it says, will be measured through "the outputs of this R&D approach and, where appropriate, integration into other sites". Improved efficiencies, customer experience and employee satisfaction will also be "key indicators of success".
Automated storage and retrieval at future factory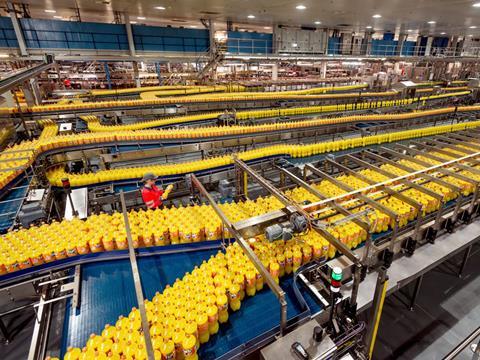 Want to know what the factory of the future looks like? Coca-Cola European Partners linked with Cranfield University to find out, and identify how to get there.
Kicking off its bold ambitions, the drinks giant announced a £39m automated storage and retrieval system warehouse at its Sidcup factory. "The facility includes robotic cranes that continuously move pallets to a maximum capacity of 25,000," says Alan Ellis, engineering director. "This allows all manufactured products to be delivered to customers directly, projected to save the business approximately 10,817 road miles by HGV trucks and 3,867 tonnes of CO2 a year. Today, there are over 250 robots working behind the scenes in the CCEP GB network, including a palletiser robot that completes around 350 manipulations per minute."
A variety of smooth solutions for the production of nut butter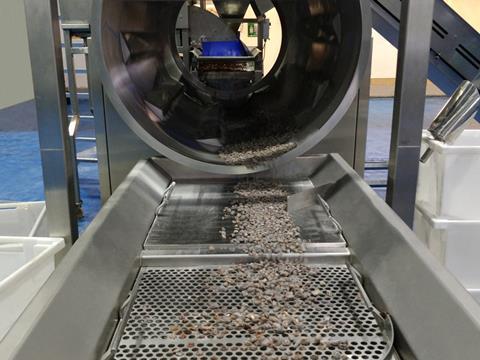 To meet demand for nut butters, Petrow Food Group invested £1.6m in a new processing line. Fully operational from January at its Haverhill site, the line places the product into a variety of packaging solutions.
It also features mixing tanks, allowing different ingredients to be added. Commercial director Fatma Akalin-McGee says it "eliminates the need to add ingredients at milling stage, enabling the production of a smooth butter without the addition of oils".
The latest investment comes after a new £850K fruit processing line last year doubled capacity and reduced labour by half. There's now a new robot in the pipeline for Petrow for picking and placing jars of nut butter into shelf-ready trays.
Planning to lead poultry packing tech in Europe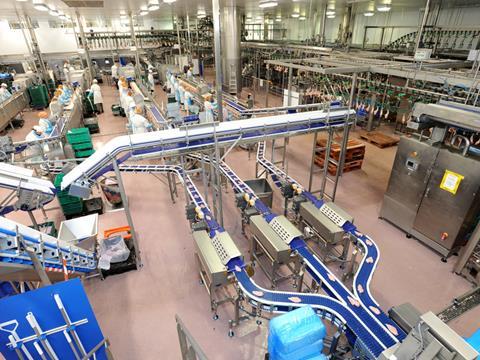 Moy Park's productivity has experienced unprecedented growth over the past three years. An increase of 20% since 2015 has enabled the meat producer to claim 30% of the UK poultry market. And the opening of a £20m hatchery earlier this year allowed the supplier to surpass production of six million birds per week.
But it's not stopping there. Moy Park has invested £18m into two of its processing facilities in Lincolnshire. "Pick and place automation systems pack products into retail-ready packaging at the Anwick facility," says Andrew Lytle, group process development manager. "Our aim is for the site to become the most technically advanced fresh poultry facility in Europe, specialising in retail packing." It has also installed new mixing and processing equipment at its Grantham site.
A thousand slices of cake a minute thanks to automated process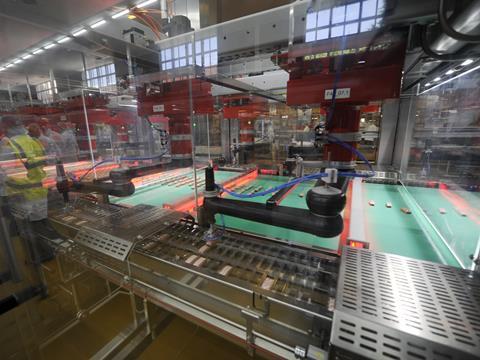 British manufacturer Premier Foods is now producing 1,000 cake slices a minute at its factory in Carlton, Barnsley. A new production and packing line introduced three years ago has doubled the site's capacity, says the factory's general manager Simon Wood.
The whole process is now automated, from mixing the ingredients to palletising the finished products. Throughput has increased by 18%, with the new line allowing Premier Foods "greater flexibility". "We can produce multipacks of different sizes to suit the requirement. This means the line is also more adaptable to future trends concerning people's consumption habits."
The investment has also created 72 new jobs.
How machine learning is helping reduce waste, improve recipes… and increase pay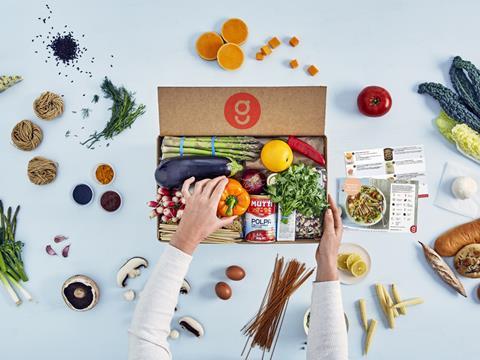 Meal kit company Gousto saw the benefits of automation from the get-go. Since it was founded six years ago, the recipe box delivery service has been looking at ways for artificial intelligence to improve the process and its offering. And when Gousto secured £28.5m in funding back in March, chief executive Tim Boldt told The Grocer that part of this would be spent on building AI capabilities further to "make the value proposition better and better".
It now uses AI to personalise recipe recommendations on its website to customers. It also uses the machine-learning technology to produce order forecasts every day in a bid to eliminate food waste from its supply chain. Boldt claims this is what has enabled Gousto to cut its lead time to 72 hours, from placing an order to it being delivered. He also says that the factory's throughput has doubled over the past two years thanks to the use of AI in its warehouse, which determines both the layout of the factory and the route boxes take through the building. And perhaps more impressively, Boldt says this increase in productivity has enabled staff salaries to rise by 15% this year, a far cry from the usual reports of robots stealing jobs.
With continued investment in technologies helping to improve Gousto's efficiency, the company's goal of delivering 400 million meals in the UK by 2025 seems entirely possible.
The robot weighing cell that cuts costs and waste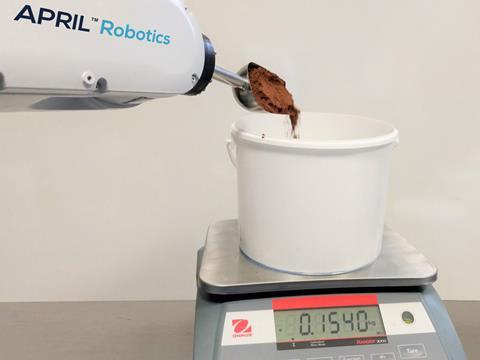 Robots can pick, pack and palletise. But OAL, which provides engineering solutions to food and drink manufacturers, sees opportunities for automation earlier in the process. Its April Robotics arm has developed a robot for handling and weighing ingredients, which it says reduces waste and costs. This is particularly true for bakeries, which OAL says lose up to 1% of their turnover by handling ingredients manually.
The April Weighing Cell can store up to 500 containers of ingredients, typically around 15 tonnes, retrieving each when required. A multitude of ingredients have been tested so far, including flour, egg powder and seeds. And Jake Norman, head of innovation at OAL, says it is now "being used in a European and UK manufacturer with a wider rollout in 2019 to more manufacturers".
This feature is from our mini-series on robotics and animatronics.