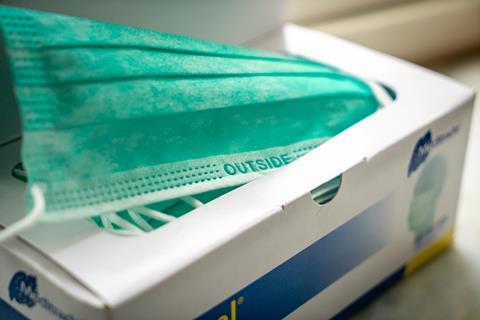 Use of face coverings in shops is to become mandatory in Scotland from a week tomorrow – but retail staff will not be expected to enforce the rules, Nicola Sturgeon has revealed.
The first minister said there was evidence wearing face coverings could cut the risk of transmitting Covid-19, and would come in at the same time as Scotland follows England by relaxing the two-metre physical distancing rule for some premises when it enters the next stage of its lockdown exit strategy on 10 July.
"Face coverings in shops will be compulsory from the end of next week but please don't wait until then, get into the habit now," Sturgeon told a press conference today.
However, the FM also said she did not expect retail staff to enforce the move, amid evidence many shoppers in Scotland have previously ignored advice to wear masks in stores and fears from retail chiefs that they could face aggression from shoppers not obeying the rules.
Retail leaders said the move meant there would be no return to "normality" in stores but welcomed the fact staff would not have to police the regulation.
"The First Minister's announcement is further proof that there will be no immediate return to normal shopping," said David Lonsdale, director of the Scottish Retail Consortium.
"We've supported the government's view that the voluntary wearing of face coverings by customers can help to reduce the risk of transmission of this virus. We understand the enforcement of this policy on customers will not fall on hard-pressed shop staff, which is encouraging."
Retail workers are already responsible for maintaining physical distancing and hygiene regimes in stores to keep customers safe.
"Leaving enforcement to the authorities should hopefully remove any potential risk of new frictions or flashpoints with customers."
The BRC and CBI Scotland welcomed the easing of the social distancing rule, saying it would mean thousands of firms in Scotland in the leisure, tourism and hospitality sectors would be viable, whereas they may have had to close under the two-metre rule.
However, shopworkers' trade union Usdaw urged retailers to maintain social distancing in shops at two metres.
Stewart Forrest, Usdaw's Scottish divisional officer, said: "Usdaw worked with the Scottish Retail Consortium on joint safety guidance for shops based on the two-metre rule and in our experience, retailers have taken that seriously and are complying. We see no reason why that should be relaxed now that the Scottish government has made face coverings mandatory in stores."
On the new rules on face coverings he added: "Our big concern is who enforces mandatory face coverings? We do not want shopworkers to be expected to turn people away from the store because they do not have a face covering or it is not being worn properly.
"We accept that face coverings can limit the spread of the virus, but they do more to protect others rather than the wearer and that needs to be understood."