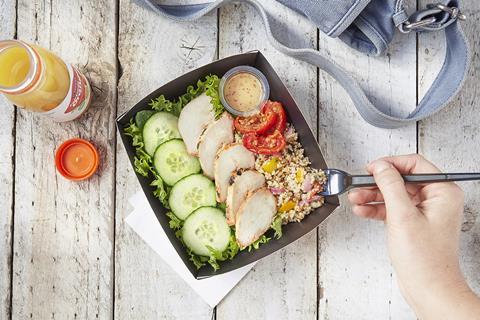 Greggs is eyeing up excess space in the estates of the big four grocers as a potential avenue to maintain its record-breaking growth.

CEO Roger Whiteside said that if the new trial with Asda was a success, other supermarket rivals may be interested in opening a Greggs concession in their big-shed stores.

"One of the new territories we are exploring is big supermarkets," the Greggs boss said as he presented the bakery chain's annual financial results on Tuesday (3 March). "There are a lot of people still shopping physically for food in supermarkets away from town centres.

"Do they want food on the go when they are away from home? We don't know. But we are prepared to find out."

He said the biggest determining factor of whether a potential customer tries a Greggs for the first time was convenience.

"Customers don't go out of the way looking for [Greggs] stores. So, the new shop opening programme is really important to put us in places where customers are. And one of those places is supermarkets.

"We've been talking to all the grocers for years. They've mostly not been interested until now, but suddenly our brand is more attractive and they have more space. Asda is the first to have a go. If that works no doubt others will want to talk to us, too."

Pre-tax profits at Greggs soared 27.2% to £114.2m in the 52 weeks to 28 December 2019 as the transformational changes over the past six years continued to bring new customers to the brand.
Total sales in the year rose 13.5% to £1.2bn, with like-for-like growth of 9.2%, compared with just 2.9% in 2018, as innovative new products such as the popular vegan sausage roll proved an instant hit.

The business now trades from 2,050 stores across the UK, hitting its long-held target of 2,000 sites during the year as it opened 138 shops and closed 41. Whiteside said there was capacity in the company to sustain more than 2,500 outlets, with potential to expand overseas in the future if domestic growth dries up.

Greggs turned its attention away from the beleaguered British high street in 2019 with almost all new store openings focused on travel locations, such as railway stations, industrial parks, office parks, motorway service stations and petrol forecourts.

In February, Greggs announced a partnership with Asda to launch counters in five stores in Boldon, Corby, Huyton, Wigan and Eastlands. The trial is due to start this month. Whiteside said today there was potential for more concessions across the Asda estate, as well as with the other big four supermarkets.

"Asda are interested in that because all the supermarkets have more space than they need in their big sheds," said Whiteside. "We are trying a few and seeing how we get on. If it works, there are lots of Asda stores in which you could put Greggs."

Greggs reported a "very strong" start to 2020 despite storms across the UK causing a "significant" slowdown in February. Like-for-like sales increased by 7.5% in the nine weeks to 29 February, with 10% growth in January alone.
Flooding across the UK impacted sales last month, with a manufacturing site in south Wales forced to close after being damaged with floodwater. The site in Treforest is also where the business manufactures its vegan doughnuts. They are currently unavailable in stores nationwide until the factory gets back online following repairs. Whiteside said it would take several weeks for production to restart.

"2019 was an exceptional year of progress for Greggs, during which we experienced a sustained increase in customer visits as increased awareness and appreciation of our brand gathered momentum," Whiteside said.

"Our exceptional performance was founded on the changes that we have made across our multi-year strategic investment programme, which has delivered transformational change across the business and has now set us up for the next phase of growth.

"We made a very strong start to 2020 in January, but in February saw a significant slowdown in sales growth as a result of the storms that have affected the UK. There is some uncertainty in the outlook, particularly given the potential impact of coronavirus. This aside, we expect to make year-on-year progress and will do so from a strong financial position, supporting our investment for further growth whilst also delivering good returns for all stakeholders."