With police resources and store staffing levels stretched, levels of abuse and assault are on the rise in stores. So what can retailers do to prevent incidents and help keep their staff – and stock – secure?
On a Saturday evening in January, father-of-two Vijay Patel, working in the Rota Express store in Mill Hill Broadway, was killed over a pack of cigarette papers. He had refused to hand the Rizla papers over to a group of boys he believed were underage. Later, as he and a colleague walked outside, he was dealt a fatal blow.

In the days that followed, two teens were arrested on suspicion of his murder, hundreds paid tribute to the shop worker at candlelit vigils in north London and a JustGiving page set up in his memory saw donations for his family flood in, worth more than £30,000.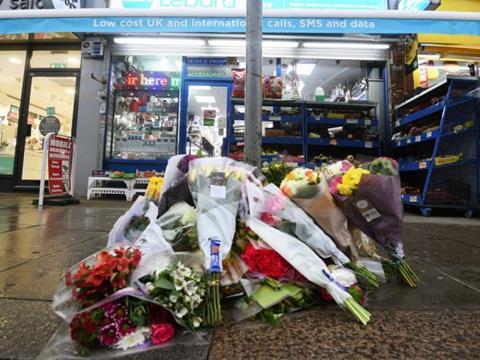 Five serious store assaults, in one year
January 2018
The story of shopworker Vijay Patel hit headlines last month after the father-of-two was struck and killed outside the convenience store where he worked in Mill Hill, north London. Patel had reportedly refused to sell cigarette papers to a group of teenagers he believed were underage. It is believed he had then gone outside to prevent damage to the shop, but was knocked to the ground and struck on the head. After two days on life support he died.
December 2017
Only one month earlier, an Aldi supermarket worker was stabbed to death in its store in Skipton, North Yorkshire. Jodie Willsher and colleagues were stocking shelves for Christmas when she was fatally attacked in front of horrified shoppers before fellow staff members managed to detain the man, understood to be her mother's former partner. The man has been charged with her murder and is due to appear in court next month.
November 2017
Shoplifter Ian Bartley drew a knife on security guard Colin Whitehouse while trying to flee an Asda in Wolverhampton. Bartley had attempted to make off with £98 of air fresheners when he was detained by Whitehouse. Bringing out the blade he shouted 'I am going to stab you' swinging and missing at the guard before Whitehouse was able to restrain him. He was jailed for two years.
September 2017
When a shoplifter was caught stealing a bottle of sambuca from a branch of Asda in Hebburn he was asked to return the alcohol by a security guard. Instead, the shoplifter threatened him with a Stanley knife. Police were called and the man was later arrested in a nearby park, but not before he had bitten one of the officers on the leg. He was jailed for 18 months.
June 2017
A heroin addict in Batley stabbed a worker at a Tesco Extra store with a hypodermic needle after being challenged during a shoplifting spree. Jane Charlotte had attempted to intervene in order to help her colleague but was stabbed in the leg by addict Gina Barker with such force that the needle bent. Barker admitted a series of offences including assault, theft and threatening a person with a bladed or pointed article.
Patel's death made the news because it was both shocking and rare. But less serious assaults on retail premises are not. The 2017 Usdaw 'Freedom From Fear' survey reported that nearly two-thirds of shop workers have been verbally abused and 40% have been threatened. In fact, a staggering 250 retail staff are being assaulted every day in the UK, says the union, with an increase in abuse and assaults of 25% in the past 12 months.
The BRC's own Retail Crime Survey, released 12 months ago, uncovered a similar trend. Violence and abuse against staff had increased by 40% year on year, it found, and the trade body says its 2018 report will show a similarly dramatic rise.

Assaults on retail staff take many forms. They can be verbal abuse, such as when a drunk man subjected staff in a Tesco Extra store in Barrow to a tirade of racial abuse in October last year. Or physical, as was the case earlier this month when an employee at Asda in Bournemouth was assaulted by a customer and hospitalised. Many incidents occur as an unfortunate by-product of shoplifting. In March last year, an Oxford man punched a store security guard who was attempting to stop him stealing alcohol. An interrupted shoplifter can easily turn violent, says Nisa retailer Paul Cheema. "When you confront someone stealing from the store, they will do anything to get away. They'll do whatever they need to do because they're feeding a coke or heroin habit and aren't thinking clearly."

The dangers are only compounded by the fact that police efforts to tackle shoplifting - and its related offences - are distinctly lacklustre. In 2015, Humberside Police said it would no longer respond to reports of low-level shoplifting but would invite victims to bring statements and CCTV footage. A freedom of information request in March last year revealed that one in three reported shoplifting offences in Greater Manchester were not being investigated, as the force prioritised other offences. And at the Met, deputy assistant commissioner Mark Simmons admitted "with pressure on our resources, it is not practical for our officers to spend a considerable amount of time looking into something where, for example, the value of damage or the item stolen is under £50, or the victim is not willing to support a prosecution."
Retailers left isolated
Pushing the crime so publicly down the police agenda has a knock-on effect for retailers. "If the Met say that they won't go after you if you steal items over £50, people will go out and steal £49.99 worth," says Mike Neville, a former detective chief inspector from one of the Met's specialist CCTV units. "These people aren't stupid. They'll steal lots for £49.99 worth - that might be good meat that they can sell down the boozer. If you're a drug addict, that means you can keep your habit going. This is backing away from crime and leaving retailers isolated."
Assaults on shop workers, in numbers: the findings of Usdaw's 2017 survey based on 1,455 responses
62.3% were verbally abused (up 25% year on year)
40.5% felt threatened (up 38% year on year)

3.2% were assaulted (up 25% year on year)

265 incidents per day

56.1% did not report incidents of verbal abuse

21.8% did not report incidents of physical assault

79.9% of shopworkers supported a change to improve protection
Retailers like Kevin Broughton. A female member of staff was working by herself in his Today's store in Lincolnshire in January, when a man burst in and threatened her with a knife. "He gave her the bag and told her to fill it with the day's takings, which amounted to £640," Broughton says. "She was 19 weeks pregnant at the time and has been understandably reluctant to come back to work unaided. So she's on restricted hours, doesn't do nights and won't work on her own. The other option was to suspend her on full pay, which I can't afford to do."

Cheema also feels abandoned. "I feel like nobody cares about us," he says. "And the problem is getting worse. We had a problem a couple of days ago when someone tried to steal some coffee from us and me and my brother went after him. You could ask why we care so much about a jar of coffee, but losses are getting crazy and each one comes off your bottom line."

Better protection for shop workers against these escalating assaults was the motivation behind a new Bill proposed by MSP Daniel Johnson to the Scottish parliament last month. The Protection of Workers Bill would create new criminal offences for retail and bar staff who are attacked while selling age-restricted products - just as Vijay Patel was.

"Every shop worker I've spoken to has a story," says Johnson. "There is a trend towards increasing abuse and violence and people seem to assume that if you are refused service, you can have a go at the person in front of you. Research from the Scottish Grocers Federation suggests that around 90% [of people working in stores]have been the victim of violence or abuse in the previous year and around a third are saying that this has become a weekly occurrence.

"We are asking people to uphold the law around the sale of age-restricted items, so it makes sense to extend that law to them. Selling or not selling these items is a serious and solemn duty so it seems that offences against them should be taken equally seriously."

But as politicians launch lengthy consultations while police numbers decline and assaults climb, retail staff could be forgiven for feeling bleak about the future. There are things that can be done right now to address the problem though - at least in part.

"The environment of the shop is important," says Mike Greville, director of training and development at Salvas, a company that provides conflict management training. "Many stores tend to cram lots of goods on to gondolas, so it's hard to see what's going on. Marketing people put sticky advertising labels on the windows, which further reduces visibility. You can be standing outside and not know what's happening inside."

The layout of the store can also prevent staff from getting away when customer behaviour becomes abusive or when thieves target the store.

"If you're a small store, or even if you're a larger store that is being refitted, try and give your staff an exit in case anything happens," Greville adds. "A lot of CCTV footage shows that staff don't have any way out and are stuck in there with the bad guys controlling the exit. Give staff a way out."
'Nosy' deterrents
He also has advice for anyone dealing with incidents that have the potential to escalate from anger into antisocial behaviour. "Body language is really important in de-escalating situations. Keep your body language nice and open with your palms out, remembering to keep half a step back so that people have a way out. Introduce yourself. And think about the tone of your voice and what you're saying, so that you challenge the behaviour and don't criticise the person."

If you're suspicious of someone, an 'over-attentive' shop assistant has a part to play in challenging people long before their behaviour has become a problem, says Bill Fox, chief executive of Maybo, a company that has delivered conflict management training for some of the major supermarkets.

"Repeat offenders say that they don't like being noticed," he says. "There will always be hardcore ones who are completely open about what they are doing, who will try and push a trolley out of the store without paying for anything in it, but they're the exception.
"Loss reduction departments might advise that it's not worth getting into a fight over a CD - but that's harder when you're a sole trader"
"What we do know is that the nosy sales assistant who asks if they can help you find what you're looking for or get a basket for that bottle of spirits you're holding is a valuable deterrent. Challenging a potential thief reduces your staff's exposure to risk, because tackling thieves is where it gets dangerous.

"Larger stores have health and safety departments, training departments and loss reduction departments whose advice might be that it's not worth getting into a fight over a CD - but that's a lot harder when you're a sole trader," he adds.

Failing to put reasonable measures in place to protect staff can also be expensive. Scottish retailer First Quench was fined more than £100,000 in 2003 for failing to protect a lone staff member who had requested that she be accompanied by a second member of staff. The request was denied and the shop was robbed.

Scottish law differs from English law, but in England too there have been successful prosecutions brought by members of staff who were able to demonstrate that an employer had failed in their duty of care. Prison officers, teachers and bus drivers, all in public-facing roles, have previously won cases for showing that reasonable steps had not been taken to protect them - and there's no reason to think retail staff would be treated differently by the courts.

One effort to exercise this duty of care has been adopted by Sainsbury's. Staff working at its 600 convenience stores were given electronic listening devices in 2014 to detect instances of abuse. A spokeswoman for the supermarket said it was "always reviewing ways to keep colleagues and customers safe."

And against a worrying backdrop of escalating assaults it's clear that all retailers - large and small - will need to keep doing just that. "Bad guys don't think that the police are going to come, so you have to think of ways to defuse situations before they happen. You can't arrest your way out of making losses. Prevent them."

Or face a potential tragedy on the shop floor.