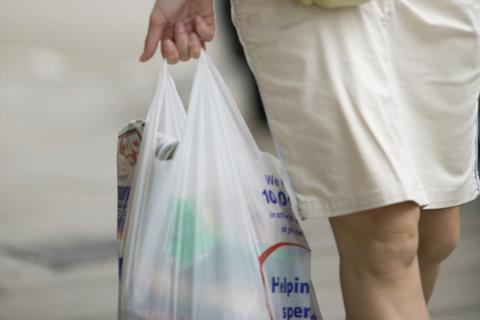 The charge on plastic bag sales has led to a fall of more than 95% in carrier bag sales, according to government data released today.
The 5p charge, which was introduced in 2015, meant that in the past year alone, Asda, Marks & Spencer, Morrisons, Sainsbury's, the Co-op, Tesco and Waitrose sold 226 million bags – 322 million (59%) fewer than in 2018/19.
Figures released by Defra show the average person in England now buys just four bags a year from the main supermarket retailers, compared with 10 last year and 140 taken for free in 2014.
As a result of the charge, £178m has been donated to charitable causes, with £9.2m donated in the past year alone.
The minimum 5p charge currently applies to all retailers employing more than 250 people. The government is considering an expansion to all businesses and increasing the minimum charge to 10p, with many supermarkets having already increased charges beyond the 5p minimum.
"It is so encouraging to see in such a short space of time the huge difference our plastic carrier bag charge has had in reducing the amount of plastic we use in our everyday lives," said environment secretary George Eustice.
"We have all seen first-hand the devastating impact that plastic bags have on the environment, littering our beautiful countryside and threatening the world's marine life. I am committed to driving this progress further and I hope this continues to inspire similar action across the globe."