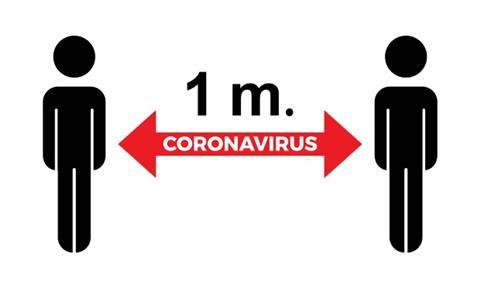 Supermarkets could scrap two-metre social distancing measures in stores on the back of the PM's easing of lockdown measures.
Some retailers are already removing certain restrictions, The Grocer has learned, as a raft of supermarkets launch reviews of their policies. They are estimated to have collectively spent more than £150m on existing safety measures in stores, including social distancing marking.
Iceland said while it was making no changes to external signage or to checkouts, it was removing two-metre distancing markers in the first aisle of its stores. It said the lines were in any event "worn and in need of replacement".
"We believe customers now have a good understanding of appropriate social distancing and no longer need these visual reminders," a spokesman said. "We will continue to limit customer numbers in stores and will manage these through controls at the door when required."
A Tesco spokesman said: "We're currently reviewing the guidance from the government and our stores will continue to operate the same social distancing measures in the meantime."
Waitrose said it was "working through what the guidance means for our business and further information will be shared with our shops in due course"
"Any changes would be made in accordance with government guidance and timelines," a spokesman added.
The Co-op said it was waiting for more guidance from the government and would be sticking to two metres until it emerged.
Shopworkers' trade union Usdaw said it was urging retailers to maintain social distancing in shops at two metres. Usdaw said it had worked with the BRC on safety guidance for shops based on the two-metre rule. "In our experience, retailers have taken that seriously and are complying," said Paddy Lillis, Usdaw general secretary.
"It has taken a lot of hard work to make the changes to encourage customers to follow social distancing of two metres in shops."