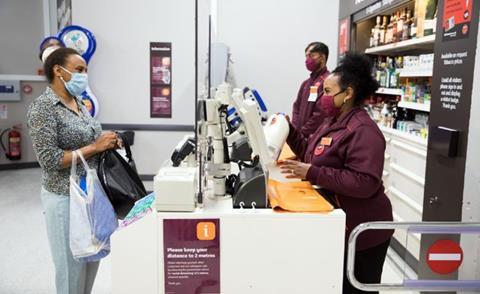 Following a tumultuous year for retail, several supermarkets are extending their festive trading hours in a bid to give customers more time to do their Christmas shopping safely through the Covid-19 crisis.
Here's a round-up of when shoppers can expect supermarkets to be open this Christmas.
Aldi:
The discounter intends to keep branches trading from 7am until 11pm on 19 and 21-23 December. This comes alongside 10am until 4pm on 20 December as part of its regular trading hours, and closures on both Christmas Day and Boxing Day.
Aldi said these times apply to "most" of its UK store estate, but urged shoppers to use the store finder tool on its website to check their local store's opening hours.
Asda:
Asda will close its 631-strong store estate from 7pm on Christmas Eve until 27 December. Staff who were due to work on Boxing Day will still be paid, but be able to spend the day with their family instead.
Each store's festive trading times will vary, so customers have been asked by the supermarket to make use of its store locator on its website.
The supermarket's CEO and president Roger Burnley said it has taken the step in recognition of its employees' "efforts as key workers during the Covid-19 pandemic. It was important for us to give as many of you as possible the opportunity to spend this time with those loved ones that you may not have not seen for many months."
Asda has also confirmed hourly paid staff will receive a 100% bonus in Feburary 2021.
Booths:
The upmarket grocer is prolonging its opening hours from 6am until midnight across its 28-strong store estate. This will be followed by 6am-6pm on Christmas Eve.
Booths stores will also close this Boxing Day to give its employees a "well-deserved break."
The Co-op:
The society's convenience stores will be open between 6am and 9pm on Christmas Eve and 9am -8pm on Boxing Day. All stores will be closed on Christmas Day.
The Co-op said there "may be local variations" to these operating hours, including at its petrol filling station sites. It therefore recommended customers check their local branch's opening times online. 
Iceland:
The frozen food specialist said its regular opening hours are in place as it stands, which are 8am-7pm Monday to Saturday and 10am-4pm on Sundays across most of its shops. It has not made any plans to extend these in the run up to 25 December.
The majority of its Food Warehouse stores, however, will trade from 8am-10pm everyday (inclusive of Sundays, if permitted) from 14-23 December. As for Christmas Eve, these branches are planned to be open from 7am until 6pm.
Lidl:
Lidl plans to open its store estate from 7am until 11pm on 19 December (including in Scotland and Wales), as well as on 21, 22 and 23 December, at which times its Scottish and Welsh branches will trade from 7am until 10pm.
As for Christmas Eve, stores outside the M25 and in Scotland will be open from 7am until 8pm, and those outside the M25 area will operate from 7am until 7pm. Shoppers can check its website to clarify their local store's hours.
M&S:
Around two-thirds (400) of M&S's store estate will trade until midnight from 21-23 December this year. This compares to just 14 of its shops in 2019.
The move comes in tandem with closing 200 of its stores and its customer contact centre and distribution centre on Boxing Day to give employees the opportunity to spend time with loved ones over Christmas.
Morrisons:
Morrisons is keeping "the majority" of its store estate open until midnight from 18 December through the festive season, including its Market Street counters. The extended operating hours will come to an end at different times across its branches, and customers can use the store locator on its website to check their local store's opening times.
Sainsbury's:
Sainsbury's plans to keep 90% of its branches open later in the run up to 25 December, with participating stores open for trade from 6am until midnight from 21-23 December. The supermarket is urging shoppers to check its website to confirm trading hours of their store during the festive period.
Sainsbury's is also incentivising customers to shop early for the festive season with Nectar points worth x10 their regular value between 4 and 13 December when purchasing from a range of longer-life Christmas items such as crackers, Christmas pudding and cranberry sauce. Each Nectar point will be worth 50p rather than the standard 0.5p rate through the initiative.
Tesco:
Over 300 Tesco branches will be open 24 hours a day from 14 December until Christmas Eve, while the remainder of its stores will open an hour early (at 5am) and close at 11pm for the period.
Waitrose:
Waitrose will keep "the majority" of its stores open until 11pm on 21-23 December, with "some" its Little Waitrose convenience stores closing at midnight for the period. It asked customers to check its website for each store's trading times.
Waitrose's Welcome Break Welcome Break motorway service stations and Shell forecourts, meanwhile, will be its only branches open on Christmas Day and Boxing Day, some of which will be open for 24 hour