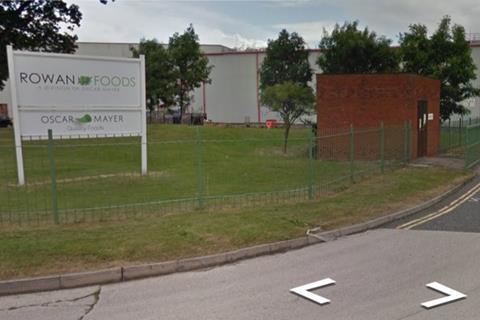 Rowan Foods Wrexham is the latest food factory to be hit by a major coronavirus outbreak

An Asda meat factory has also been closed after an outbreak

Staff at Rowan Foods walked out in April over fears about social distancing and working conditions
Coronavirus outbreaks have emerged at two more food factories, a day after news that a 2 Sisters plant had been forced to close.
Rowan Foods, in Wrexham, has been hit by a major outbreak, coming weeks after staff staged a walkout over a claimed lack of social distancing.
Meanwhile an Asda meat factory in West Yorkshire has been closed after an outbreak which has left around 100 workers self-isolating
Rowan Foods is the latest confirmed site struck in Wales after the 2 Sisters, in Llangefni. It takes the number of confirmed cases at food factories in Wales revealed in the past few days to almost 100.
Rowan Foods, which is owned by Oscar Mayer and makes produce for supermarkets across the UK, said 38 staff had tested positive for Covid-19, out of a total workforce at the site of 1,500.
It said none of the staff were seriously ill or had been hospitalised.
Asda Cleckheaton
Asda declined to say how many people had tested positive at its factory in Cleckheaton, West Yorkshire, but confirmed a test and trace team had been sent in to test all workers after the first cases emerged on Monday.
Asda said it had been given the go ahead by the authorities to re-open the factory, which is run by Kober Ltd near Cleckheaton, part of its IPL operation, but had decided to keep it closed as a precautionary measure.
The factory, which Asda said was operating with strict social distancing measures, supplies the supermarket with products including bacon rashers and meat joints.
"As soon as we became aware that some colleagues at our Kober site may have Covid-19, we responded swiftly and worked collaboratively with the local authority and Public Health England to test all colleagues," said an Asda spokeswoman.
"We have existing strict safety measures in place on the site, however as a precautionary measure we have voluntarily closed the site to protect colleagues and prevent any further transmission. Colleagues who need to self-isolate will receive full pay and we aim to reopen the facility early next week. We're grateful to the Kirklees Council and Public Health England for their support through this process."
Lack of social distancing
The outbreaks have led to more scrutiny of the vulnerability of food production facilities to the virus. At the Rowan Foods site, the news comes after staff at the factory walked out in April over concerns about working conditions, and said fears over a lack of social distancing had not been tackled.
It was reported at the time that police were called to the factory because of a protest by workers.
In a statement an Oscar Mayer spokesman said: "The site has 38 staff absent due to testing positive for Covid-19. This is across our direct and agency workforce, which totals 1.500.
"We are very thankful that none of our colleagues are seriously ill or hospitalised from this virus.
"Following notification of a positive Covid case we have worked with Public Health Wales and had already implemented a track and trace process to highlight any close contacts. These colleagues are required to isolate for a 14-day period of isolation. Any member of staff who has tested positive for Covid-19 is asked to isolate for at least seven days.
Read more
"The safety of our colleagues remains our priority and our focus is remaining Covid-19 secure as a site; we must do all we can to take individual responsibility and follow government guidelines at all times for our own safety and the safety of our colleagues. We have encouraged all staff to stay home if they have any potential Covid-19 symptoms, however mild these symptoms may be.
"As you would expect, we have made significant operational changes at the site to maintain social distancing wherever practically possible, including various mitigations such as screens and visors where this is not always possible. All these changes have been made in conjunction with advice by the regional Environmental Health Officer. These measures have limited the impact on our teams.
"We are aware through discussions with Public Health Wales that the Wrexham area is seeing significantly high numbers of positive cases. It is concerning but not surprising that we are seeing a number of our staff affected by this local trend. Similarly, we are experiencing a high number of staff required to isolate a large proportion of our teams are from the same household / family and interact outside of work as well as being work colleagues.
"Whilst we are seeing a number of cases on site, Public Health Wales support our view that there is no clear evidence to suggest that there is a spread of the virus within the site; we are seeing a reflection on-site of the increases in cases within the locality. We will continue to do all we can to remain vigilant and to keep our colleagues and families safe."
2 Sisters Anglesey
On Wednesday, Public Health Wales said it had identified 51 confirmed cases of the virus associated with the 2 Sisters poultry processing plant in Anglesey, with the first reported case of Covid-19 at the site being detected on 28 May.
Welsh health minister Vaughan Gething yesterday spoke about the incident at the factory in Anglesey, saying it was being treated by the authorities as a major outbreak.
He said: "This illustrates the seriousness of coronavirus and the importance of social distancing."
2 Sisters stressed it had been operating a full "safe ways of working" system at the factory since the UK coronavirus crisis began in March, including the use of Perspex screens, visors and social distancing in high-traffic areas of the factory.
However, the company had until yesterday planned to keep the factory open, with enhanced safety measures having been brought in. These included temperature checks for staff on entry and installing marshals to enforce the two-metre rule where it was being applied, which sources admitted had been difficult.