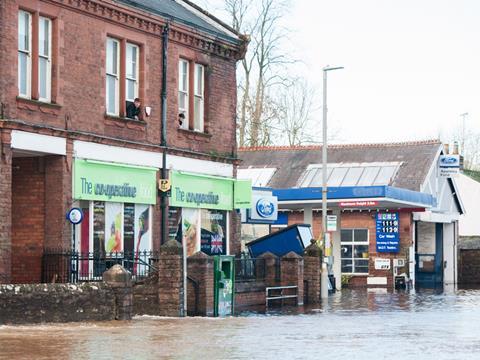 Grocery is "praying for the rain to stop" after floods in the North of England, Northern Ireland and Scotland devastated hundreds of businesses.

The wettest December on record left the industry facing a mop-up operation running into tens of millions, and some suppliers and retailers potentially ruined, with hundreds of jobs at risk.

Many businesses remain closed, some still with their premises under water, as logistics experts warned the impact from the floods would be felt for months, even if forecasts of further storms in some areas fail to materialise.

"In some parts, journeys that would have been 30-minute return trips have become two-and-a-half-hour round trips because of bridges being shut," said Becky Webster, general manager of AG Parfett & Sons, the northern C&C that serves many of the worst hit areas. "This is going to go on for months and have huge implications for deliveries."

Webster added: "We've lost a lot of businesses and some of them we just don't know whether they will ever open again, we're all just praying it doesn't rain again."

Joanne Hilton, head of grocery retail operations at Wincanton, said the impact of the floods was being felt across the sector. "We've had many cases of stores being flooded, or cancelled deliveries to stores, it's been just horrific," she said. "In many areas roads have just been impassable and that affects companies however big they are."

Palmer & Harvey said communication had been key to minimise disruption. "Immediately after the first deluge we saw parts of towns and villages cut off, and some of our customers underwater," said Mark Leonard, group operations director. "Effective communication has been critical; our customers want their orders as many stores are lifelines for local residents who have been unable to travel.Deliveries in affected areas have found alternative routes in and out, and where some of our customers and their rivals have been closed we have seen large uplifts in sales."

Some of the worst devastation happened in the Calderdale area near Halifax, where whole towns were turned into lakes. Among the biggest casualties was Taylor's Bacon in Mytholmroyd, which has temporarily shut down following what owner Becketts Food described as a "devastating" flood. The company denied reports hundreds of tonnes of bacon had been lost, but said some stock had been destroyed, with production forced to switch to other facilities in Huddersfield.

"Unfortunately, Mytholmroyd, where our Taylor's Bacon factory is located, is one of the areas that has been devastated, and this has forced a temporary closure," said Becketts director Becky Cornes.

"This is a difficult time for everyone involved, not least for our 90 or so employees, and in particular those whose homes, as well as their workplace, have been damaged."

Store closures

Elsewhere, Spar said three of its stores were still shut, including locations in Keswick and Kendal in the Lake District, where storms hit a month ago. Another in Kirkstall Road, Leeds, was engulfed by several feet of water on Boxing Day. Asda was forced to close its Kirkstall superstore for four days, as well as its Rochdale superstore. And Co-op CEO Richard Pennycook paid tribute to the "Dunkirk spirit" of staff at the retailer, which at one stage had 10 stores under water at the height of the flooding. "We opened pop-up shops in a number of locations," he said, "I want to pay tribute to the spirit and resolve of colleagues in these challenging times."

Tesco, which built a 10,000 sq ft temporary store in the space of a week after its Carlisle store was flooded, also paid tribute to the work of staff. "Colleagues across Northern England and Scotland have put in a huge effort to ensure our stores, distribution operations and deliveries have continued," said UK CEO Matt Davies. Tesco was forced to limit dotcom deliveries in some of the worst hit areas, saying in some areas roads had been "literally washed away".

Elsewhere, the massive clean-up continues. At the United Biscuits factory in Carlisle, which was flooded by five feet of water by Storm Desmond almost a month ago, just one of the lines is back up and running; 400 of its 600 workers to have returned to work so far have found themselves bailing out, rather than making biscuits.

Help from GroceryAid

The GroceryAid charity said this week it was looking at what it could do to help, having already made some one-off grants available to shop workers in Cumbria.

Anyone affected by flooding who is working, or has worked, in the grocery industry, visit www.groceryaid.org.uk to apply for help or call the GroceryAid Helpline 24/7 on 08088 021122.