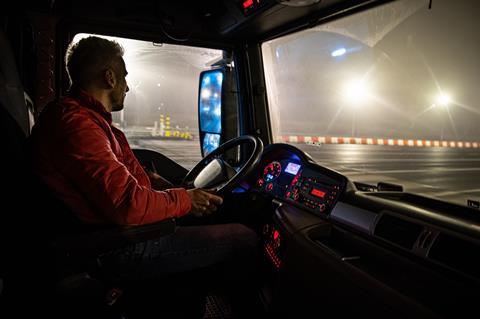 Industry leaders held talks with the government today calling for emergency measures to tackle food shortages caused by the HGV driver crisis.
The Grocer understands a string of supermarket executives told Defra officials they were facing shortages. One retailer claimed this was most pressure on the supply chain he had seen in 40 years.
Measures being called for include an extension of HGV driver hours and the temporary suspension of overnight delivery curfews.
After weeks of warnings over the impact of a major shortage of drivers, sources at the meeting said supermarkets were now beginning to see shortages of certain food items.
The meeting was attended by supermarkets, trade bodies and logistics bosses, with a similar lineup to the now wound-up Food Resilience Industry Forum (FRIF), which regularly met during the coronavirus crisis last year.
Although the body has not been formally reinstated after it was shelved in April, FRIF is due to hold a quarterly catch-up on 15 July. The Grocer understands there will be calls for it to be fully reinstated, especially with the deadline for Brexit checks in the UK to come into force in October.
Today's meeting came after industry bodies last week wrote to prime minister Boris Johnson calling for his personal intervention to allow access to European labour by introducing temporary worker visas for HGV drivers and adding them to a "shortage occupation list".
"It was a very constructive meeting," said FWD CEO James Bielby.
"Defra is building a case for actions but unfortunately they don't make the decisions and we know that No 10 only really care about the media.
"There was wide support for an increase in drivers' hours, which will make a real difference to multi-drop wholesalers. It doesn't mean every driver will be working every additional hour and government should trust employers to use it appropriately."
Cold Chain Federation CEO Shane Brennan said: "This was an important meeting that reassured us that government is taking the problem seriously. But the proof will be in the actions they now take.
"The government can't solve our problems, but they can remove barriers that prevent businesses across the supply chain from getting the job done.
"We need urgent immediate action to help clear the growing backlogs across our supply chain, to stem the tide of drivers leaving the profession and to encourage new and previously employed drivers back into the supply chain."
FDF CEO Ian Wright said: "Many members are worried about the long-term outlook for the UK labour market.
"They think the impact of the pandemic on the UK's workforce has been seriously undercooked. We have also seen double-digit food price inflation at a global level this year.
"The FDF is working closely with the representative bodies of those food and drink sectors impacted to find ways to mitigate the effects of labour shortages.
"These include temporary solutions which will ease the pressure on the labour market. We will also look at existing government mechanisms that can be extended to cover the food and drink industry."
Another source added: "There is a feeling that because the government has been busy fighting the pandemic and dealing with the situation with Brexit that they have taken their eye off the ball."
"Obviously the industry is extremely keen not to spark another round of panic buying like we saw at the start of lockdown last year, so this has to be handled sensitively as it can so easily become a self-fulfilling prophecy.
"But you only have to go into stores to realise that there are shortages of some items beginning to appear.
BRC director of food and sustainability Andrew Opie said: "Retailers are aware of a fall in HGV driver numbers, resulting in minor disruption to some supply chains.
"Supermarkets are working closely with their suppliers to ensure that consumers still have access to the same great selection of goods. Government must rapidly increase the number of HGV driving tests taking place while also looking for a longer-term solution to this issue."
A government spokeswoman said: "We're working with industry and have already taken action on HGV driver shortages, including ramping up vocational test capacity, and funding apprenticeships.
"However, most of the solutions are likely to be driven by industry, with progress already being made in testing and hiring, and a big push towards improving pay, working conditions and diversity."