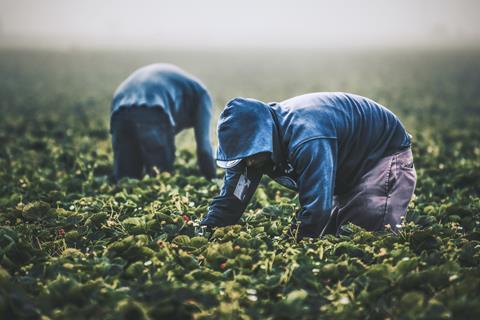 UK supermarkets including Aldi, Tesco and Sainsbury's are funding tighter audits in response to allegations of worker exploitation across their supply chains.
The grocers are ramping up scrutiny of the hiring agencies many suppliers have used as part of the government's Seasonal Worker Scheme, over fears thousands of Asian labourers have been exploited by recruiters.
The move follows several reports that workers coming from countries such as Nepal and Indonesia to work on British fruit & veg farms have paid extortionate fees to temporary work agencies in their home countries, and have struggled to pay off their debts since arriving in the UK.
The most recent high-profile case was that of hiring agency AG Recruitment, one of the government's key recruitment partners, which lost its license last month over alleged human rights violations.
The coalition of supermarkets – also known as the Seasonal Workers Scheme Taskforce – has now told suppliers it will fund independent audits to mitigate the risks of worker exploitation in their supply chains.
This will include stricter reviews of recruitment practices in source countries as well as regular farm visits to check on workers' ongoing experiences.
"The BRC and its members have been working collaboratively since autumn 2022, joining representatives from government, scheme operators, growers and NGOs, to develop and implement tangible actions that mitigate risk of worker exploitation and improve the experience for seasonal workers," said Sophie De Salis, sustainability policy advisor at the BRC.
"Retailers are committed to upholding high standards of welfare for all people who work in their supply chains."
UK farmers have turned to an increasing number of migrant workers from Asian countries to help tackle labour shortages driven by Brexit and worsened by the Ukraine conflict, as many fruit & veg pickers previously came from the war-torn country.
Growers will typically audit their recruitment partners. But concerns around the hiring practices of seasonal labourers from Nepal and Indonesia have escalated so much in recent months that supermarkets and other food companies have faced calls to intervene, and make sure workers in their supply chains are not at risk of debt bondage and other forms of forced labour.
In a letter sent to suppliers earlier this month seen by The Grocer, the retailers announced the launch of a common scheme operator Responsible Recruitment Progress Assessment (RRPA) to "support seasonal workers and growers further by creating an aligned, transparent, and robust due diligence process".
This two-part auditing programme will include a self-assessment form for hiring companies as well as an independent assessment run by ethical audit agency Stronger Together – including reviews of recruitment agencies' practices in the source countries and visits to UK farms once the workers are placed.
The first audits are expected to take place in April and early May, with more to follow throughout the year to allow hiring agencies to track progress in implementing responsible recruitment good practice steps.
These new self-assessment forms and independent audits will now be accepted in lieu of other previous checks taking place for the Seasonal Workers Scheme – this will help reduce pre-audit and audit duplication, and increase transparency across all supermarkets' supply chains.
Grocers told their suppliers they expected them to "only use scheme operators that have been through the Stronger Together RRPA process".
The Taskforce will also engage with government departments and enforcement agencies on potential changes to scheme rules, regulation, oversight and enforcement.
Kate Roberts, head of policy at charity Focus on Labour Exploitation (FLEX), said: "Making sure workers who migrate to the UK are able to access rights in practice is central to mitigating risks of exploitation on short-term work visa schemes.
"This needs to include proactive labour market enforcement and monitoring and practical ways for workers to access redress."
The full list of supermarket members of the taskforce is: Aldi, Asda, Coop, Lidl, M&S, Morrisons, Ocado, Sainsbury's, Tesco and Waitrose. Others involved in the Taskforce include Stronger Together, the Association of Labour Providers and the Food Network for Ethical Trade.