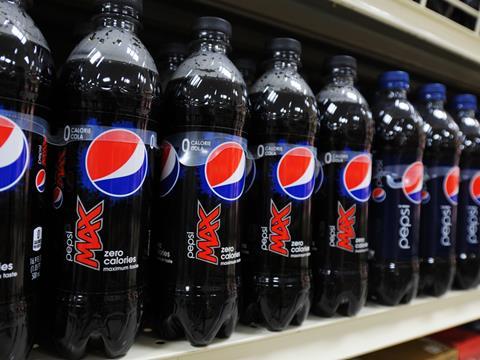 Pepsi Max has emerged as one of the big victims of the CO2 crisis, with supermarket stocks running low and average shelf prices hiked by 8% over the past month.

Supermarket out-of-stock levels for Pepsi drinks have surged since mid-June, reaching over 20% in Asda, Morrisons and Sainsbury's in the week commencing 2 July 2018, having been close to zero a month ago, according to data from MySupermarket.

Pepsi Max appears to be the worst hit, with several SKUs now out of stock in some supermarkets. Morrisons currently has no 1.5-litre bottles of Pepsi Max available online, while Waitrose and Sainsbury's have run out of two-litre bottles as well as some multipacks [Brand View 11 July 2018].

At the same time, average shelf prices for Pepsi Max have increased following price hikes on selected SKUs. A two-litre bottle is now £1.55 on average in the mults, 11.5% pricier than last month, while an eight-pack of 330ml cans is £3.60 on average, up 5.8% [Brand View].

Supermarkets have also seen reduced availability on some Coca-Cola lines, though out-of-stock levels remain below 10% in most of the mults. Out-of-stock levels on Tesco's own label fizzy drinks reached 30% in the week commencing 25 June.

"In July, we've seen steep OOS issues across a number of brands and own labels in some supermarkets, resulting in some own label products being removed from sale," said Viv Craske, MD of MySupermarket.

It was not surprising the crisis had been "more pronounced" on soft drinks than beer, said Neil Murray, an analyst at Informa's Agribusiness Intelligence. "Production of beer takes longer because of the fermentation process, so there is quite literally more in the pipeline," he said. "Soft drinks can be made pretty much instantly and nobody likes to hold stocks these days, plus demand has hit an unprecedented peak because of the hot weather and World Cup."

Availability of CO2 has begun to improve, with several plants that were down due to maintenance or repair resuming production in recent weeks. However, the FDF warned last week consumers would see an "ongoing impact" due to the "length of supply disruption" suffered by the industry.

Britvic, which bottles and distributes Pepsi drinks in the UK, said it was working with CO2 suppliers to minimise disruption and insisted all factories would remain open. "We can confirm that all of our factories have been, and remain, open and we continue to supply our customers across all of our brands," said a spokeswoman.