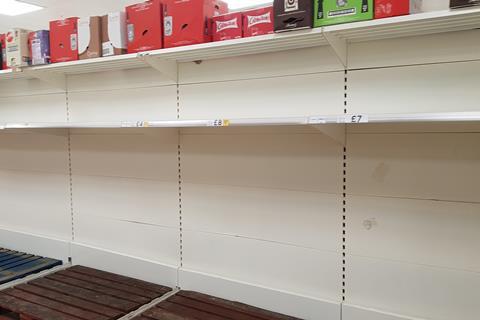 Sainsbury's has joined a raft of major supermarkets to ration hygiene products after shoppers stripped shelves of toilet paper and hand sanitiser over the weekend amid coronavirus fears.
Sainsbury's, which previously had no restrictions in place, is now limiting purchases of soap, handwash, tissues and cleaning products to five of each item per customer, as well as rationing pain relief products to two per customer.
The supermarket is still not placing any restrictions on the number of food products customers can buy in-store and online, despite the stockpiling of dried items such as pasta and rice that occurred at retailers over the weekend.
"To make sure all customers can find everything they need we're limiting purchases of a small number of products, including soap, handwash, tissues, cleaning products and pain relief," said a Sainsbury's spokeswoman. "Customers can be assured we are receiving new deliveries regularly."
Over the weekend, a number of other retailers introduced rationing on some items in response to the crisis.
Tesco brought in a nationwide five-item maximum on several food and non-food products, including baked beans, dried pasta, UHT milk, bottled water, hand gel, hand sanitiser and bleach.
Other retailers to introduce rationing included the Co-op, which brought in restrictions of three units per person on toilet and kitchen rolls, hand sanitiser, antibacterial soap and hand and surface wipes.
Asda has introduced a two bottle per person limit on hand sanitiser.
Aldi limited hand sanitiser purchases to two per customer. The discounter announced the move on social media, saying it was monitoring feedback.
Waitrose announced a "temporary cap" on certain items online, such as hand sanitiser, though it has not yet announced in-store restrictions. Boots has also limited its sales of hand sanitisers to two per person.
Ocado had also put limits on buying several products, with shoppers restricted to two packs of toilet roll, two bottles of antibacterial gel and three bottles of Calpol.
Morrisons said it had not introduced restrictions but was closely following developments.
The Grocer reported last week that more than a third of customers had been stockpiling.